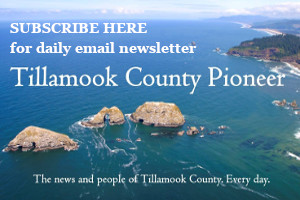 By Gordon McCraw
Thursday, March 17, 2022, 10:00am
Weather
The next in the series of systems is knocking on the door this morning in the form of a weak cold front that approaching the coast and will bring some mainly light rain into the area. This means we can expect cloudy skies that become rainy by the afternoon, winds becoming southerly 5-10, highs near 51, then a 40% chance of showers tonight behind the front that diminish around midnight, lows near 46.
We have a chance of afternoon showers developing tomorrow then a look at the satellite picture shows another front marching toward the area, behind today's system, that will push in more rain by tomorrow night into Saturday morning. It looks like this system could bring between ½ and ¾" of rain thru Saturday morning.
That front finally pushes thru Saturday morning, and this pulls the snow level down to near 2000', and with scattered showers, the higher Coast Range mountains could see another dusting. Winds Saturday becoming westerly 5-10 gusting to 20, the high only near 49.  More scattered showers likely tonight under mostly cloudy skies, the snow level still around 2100', lows near 38.
The shower activity eases a little Sunday, the snow level still around 2400', highs near 50, then the shower activity diminishes ahead of an approaching warm front that pushes in more rain late Sunday night.  With the warmer southwesterly flow, the snow level begins climbing also.
Monday looks rainy and 53, still cloudy with a chance of rain Monday night, lows near 45.  After this it appears the models are coming into better agreement that a high pressure ridge will build in bringing partly sunny skies Tuesday with the high temperature climbing up to 63, and with partly cloudy skies that night, lows only drop to near 46.
It looks like the ridge will move east of the area Wednesday and that would open us up for a chance of more rain, we will see.
ODOT 's Tripcheck Report, Hwy 101 Slide:
It appears Hwy 101 just north of Wheeler at MP 47 is still down to one lane due to the landslide.  ODOT has put up concrete barriers in the northbound lane to protect the southbound lane while they work on the cleanup and stabilizing the slide area.  This will take an undetermined amount of time but until conditions improve, the road is restricted to one lane controlled by flaggers so you can expect at least 20 minute delays in north or southbound traffic.