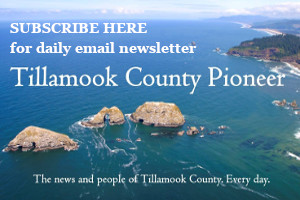 By Gordon McCraw
Friday, March 18, 2022, 08:00am
Weather
High clouds are streaming across the top of the high pressure ridge and dropping down across the area. The ridge is getting pushed eastward ahead of a front that will bring increasing clouds later today associated with an approaching warm front that brings rain early tonight, winds today becoming southerly 5-10, highs near 41. The rain persists tonight, winds southeasterly 4-8, lows near 41.
The rain continues tomorrow morning with the associated cold front. The cold front pushes through late morning to early afternoon and we transition over to scattered showers as the snow level begins to fall to near 2100', so, some snow is possible again in the higher Coast Range mountains. Winds tomorrow becoming westerly 7-12 gusting to 20, the high near 50. We can expect mostly cloudy skies tomorrow night with a few more light scattered showers, wind westerly 4-8, the low near 39, the snow level down to near 2000'.
A weak ridge builds in Sunday but not enough to cap the shower activity around so more scattered showers expected, likely during the afternoon with all the moisture and daytime heating. Winds Sunday southwesterly 5-10, highs near 49.
The next system looks to be aimed more to our north on Monday, so we just see some more scattered light showers Monday, the highs near 52, lows Monday night around 45, the shower chance diminishing.
Tuesday, we see a ridge building in with a possible easterly flow so we dry out and the afternoon temperatures could climb up to near 65, lows that night down around 46. After this the models are mixed, some show the ridge hanging in and giving us another dry and warm day Wednesday, while the others bring a disturbance through that would give us some showers under partly sunny skies. I like the sunny option!
A reminder that Hwy 101 is still restricted to one lane just north of Wheeler due to the landslide blocking the northbound lane. The one open lane is being controlled with flaggers so expect some delays getting thru that area. This is also the beginning of spring break for some so increased traffic is possible this weekend.