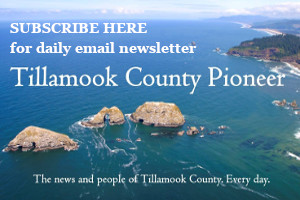 By Gordon McCraw, for Tillamook County Emergency Management
Friday, March 4, 2022, 08:45am
There are still a few widely scattered showers rotating around an upper level low pressure that is moving southward, off the central coast.  It is expected continue southward then turn and move into northern California later today.  So, look for mostly cloudy skies with a few of those widely scattered showers around, winds becoming northerly 5-10, highs near 49 then mostly cloudy but dry tonight, diminishing winds, patchy fog and frost possible, lows near 35.
A ridge of high pressure builds in tomorrow bringing mostly sunny skies with light northwesterly winds, highs near 53, some partly cloudy nights with calm winds, lows near 35.  There is a chance of some early morning patchy fog and frost later both nights, into the early morning hours.
The good weather extends into Monday with one more day of mostly sunny skies, the high near 56, then things start to shift that night with an approaching disturbance that pushes in cloudy Monday night, lows near 38 then add a chance of showers by Tuesday morning thru Wednesday with the snow level falling to around 2000-2500' with lows near 35.  Another chance of showers comes Thursday, the highs near 52, lows near 36.