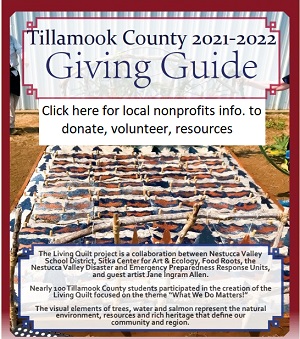 By Gordon McCraw
Wednesday, April 13, 2022, 09:00am
Weather
This morning we have a low pressure area moving into the coast around the Tillamook area. This is causing an increase in showers, especially on the northeast and east side of the low as an organized band of showers moves eastward.  In some of the heavier showers there is a low level mix of rain and snow.  The official snow level is down around 700' again this morning with brief periods of it falling lower in those heavier showers. As the low continues to move inland and drags the band inland as well, we will see scattered showers with possible thunderstorms this afternoon and with daytime heating, the snow level will climb up to around 1500' also.  Winds today becoming southwesterly 8-12 gusting to 25, the high near 46. The shower and thunderstorm threat continues tonight, the snow level falls to near 1000' by midnight, then lower snow are possible as the early morning low will fall to near 32 with light winds.
More showers are expected tomorrow, the snow level slowly climbs back up to near 1500' so the Coast Range summits will still be seeing snow or at least a rain/snow mix in any showers that move across that area thru the afternoon. Winds tomorrow becoming westerly 5-10, the high near 48. The shower activity eases tomorrow night under mostly cloudy skies, calm winds, lows near 34.
It looks like we will have only a slight chance of showers Friday, the snow level continues to climb to near 2000' by the afternoon with partly sunny skies.  Winds Friday becoming westerly 4-8, the high near 50.  Mostly cloudy that night with light winds, the low down to near 35.
The models show another low pressure area off the Oregon/Washington coast Saturday that would cause some rain and rainshowers in our area, the snow level starts out at around 1500' that morning but climbs up to 2000' that afternoon, highs near 49.  The threat eases Saturday night, the low near 36.
We see a dry day Sunday with mostly cloudy skies, the high near 56, becoming cloudy with a chance of rain that night, lows near 42. Monday and Tuesday look rainy but warmer, highs near 55, lows near 41.
Yesterday's COVID Community Call Update
COVID-19 County Data
7-day case count (

April 3

 to 

April 9

): 14
14-day case count (

March 27

 to 

April 9

): 23
Cases for March (

April 1

 to 

April 10

): 18
Total Cases to date (

March 2020

 to 

April 10

, 2022): 3,667
Total COVID-19 Related Deaths: three additional COVID-19 related deaths have been reported, one from February and two from March increasing Tillamook County pandemic total of COVID-19 related deaths from 61 to 64. News release available at tillamookchc.org.
Total COVID-19 Related Hospitalizations: 143
Active outbreaks (OHA): 0 (PH is monitoring 12 for potential outbreak).