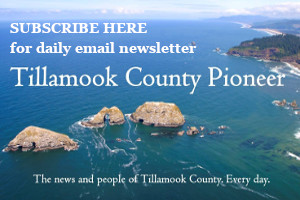 Monday, April 18, 2022, 09:00am
Another active week in store with several systems expected to impact the weather thru the end of the week and weekend. We have a system approaching the area this morning that is bringing us light to moderate rain, and it could bring heavy rain at times before if finally moves east of the area this evening. This system will be a little slow pushing thru so we could see between 1″ to 1.5″ of rain from this system today. This will also be a breezy system, bringing easterly winds 10-15 gusting to 25, the highs today near 47. We transition over to showers by tonight, some of these could also be briefly heavy, bringing small hail and thunderstorms are also possible, especially over the coastal waters. The winds will die off tonight, lows near 40.
The unstable conditions remain tomorrow so more showers, some briefly heavy with small hail, and the thunderstorm threat remains also, winds easterly 5-10 but becoming westerly in the afternoon tomorrow, highs near 52. The showers ease some tomorrow night, southerly winds 5-10, lows near 41.
We will see yet another front pushing in rain late tomorrow night with rain likely Wednesday with the front but with the persistent southwesterly flow, we see more rain into Thursday, highs near 53, lows near 41.
Friday the rain eases a little but then most models show an upper level trough of low pressure dropping down into the area so that would keep a chance of scattered showers in the forecast for Saturday and Sunday, highs near 55, lows near 42.