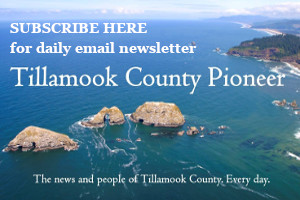 By Gordon McCraw
Friday, April 29, 2022, 10:00am
While there are a few widely scattered light showers in the region this morning, they will all likely dissipate later this morning as a ridge of high pressure races across. As has been the case lately, the break will not last very long as the next front will begin to increase the rain chance this afternoon with rain likely tonight.  The winds today will be light with the ridge moving across but with the front approaching tonight winds become southerly 5-10 gusting to 18.  High temperatures this afternoon near 56, lows tonight near 48.
The front pushes thru tomorrow morning and we transition back to scattered showers and some of these could be briefly heavy and produce some small hail with gusty winds and there is a slight chance of thunderstorms, all thanks to a low pressure area moving across.  The upper level low push out of the area tomorrow night so the showers activity slowly diminishes as another ridge of high pressure builds in over the area. Highs Saturday near 55, nighttime lows near 42.
With the ridge of high pressure over the region, Sunday looks to be nice, dry and mild with partly sunny skies, highs climbing to around 60 with winds becoming westerly 4-8 in the afternoon hours, but then, you guessed it, another front brings back the rain Sunday night, lows near 44.
The rain continues into Monday, the high near 52, the rain starts to slowly wind down Monday night as another ridge starts to build in over the area which brings back the fair and dry skies with Tuesday looking partly sunny and 57, then Wednesday mostly sunny with the afternoon high near 65, lows both nights near 43.
The long range models show another approaching system pushing in a chance of rain Wednesday night into Thursday which would pull down the temperatures back into the upper 50s, lows still in the low to mid 40s.
National Weather Service OREGON WATER SUPPLY SUMMARY AS OF APRIL 12TH, 2022
The water supply forecast for the spring and summer of 2022 is below average for almost all Oregon watersheds, except for some in northwest Oregon, where forecasts are near-normal. Most of the areas projected to be below average are already stressed due to drought conditions for much of the past 2 years.
Precipitation so far this water year (October 1, 2021 to present) is highly variable around the state but mostly below average. Portions of northwest and northeast Oregon are near or above average, while central, southeast, and southwest Oregon are below average. Seasonal precipitation is particularly low relative to average for central and southeast Oregon.
Mountain snowpack has been nearly unchanged since early January. February and March are typically months where snowpack continues to accumulate, but only the northern Cascades had minor increases. As of early April, several snow monitoring stations in south-central and southeast Oregon already had complete melt-out for the season. Seasonal snowpack was below normal for all but the far-northern Cascades in the vicinity of Mt. Hood. Substantial precipitation and mountain snow accumulation is possible through April and May. However, amounts are unlikely make a significant dent in seasonal deficits to long-term precipitation, snowpack, soil moisture, and reservoir storage, especially for the southern half of Oregon.
The following counties already have received drought declarations from the Governor's office: Crook, Gilliam, Harney, Jackson, Jefferson, Klamath, and Morrow. Additional counties are likely to request drought declarations this spring.
The next update to this outlook will be issued May 10, 2022.
National Weather Service PRECIPITATION AND TEMPERATURE OUTLOOK
The Climate Prediction Center produces monthly and seasonal outlooks, in which there is a weighing of the odds of near normal, above normal, or below normal temperatures and precipitation.
The April outlook showed a slightly-enhanced likelihood of below-average temperatures and above-average precipitation for northern Oregon, with equal chances for temperatures and precipitation in southern Oregon.
The outlook for May through July indicates a slightly enhanced probability of below-average precipitation for all of Oregon. For temperatures, there is a slightly-enhanced probability of above-average temperatures for southeast Oregon, with equal chance of near, above or below average for the rest of the state.