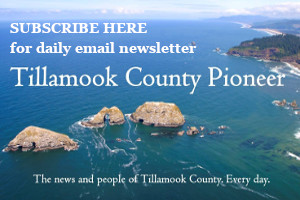 By Gordon McCraw
Wednesday, April 6, 2022, 09:30am
A high pressure ridge over the area gave us clear skies overnight with calm winds.  This allowed radiational cooling so the lows dropped to around 30 early this morning leading also to some patchy fog and frost. With the clear skies today, the afternoon high temperature should climb up into the mid 60s.  The winds will start out from the east later this morning then become more northerly this afternoon.  We see partly cloudy skies tonight and the winds finally diminish later tonight, lows near 43.
The high pressure ridge will slide east of the area tomorrow, but not before giving us another mostly sunny day with westerly winds 4-8, the high climbs up to or just above 70.  Some clouds move in tomorrow night and with the approach of an upper level trough of low pressure, scattered showers are possible after midnight, winds westerly 4-8, lows near 44.
Friday, we see more scattered showers associated with a cold front moving in that will be pulling in colder air again.  Winds becoming westerly 8-12 gusting to 20, the afternoon high near 52. More scattered shower likely tomorrow night, the snow level starts to drop hitting around 2000' after midnight, lows dropping to near 38.
With colder, unstable air pouring in behind the front, this weekend will see more showers Saturday under mostly cloudy skies, the high near 50 and the snow level drops to around 1500' so there could be some periods of snow across the tops of the Coast Range Passes.  Saturday night we continue to see showers and the snow level continues to drop to near 1300' tomorrow night and drops further, to near 1000' after midnight with the low temperatures here falling to near 36.  There is some talk that the snow level could be dropping even further, especially over in the valley.  We will be watching a low pressure area dropping down from the north that could complicate the forecast and the snow level forecast Sunday.  Should the low move in south of Tillamook, the snow level could be quite low and maybe even break some late period snowfall records. Something to watch for the weekend, especially if you planned to head over to the east. Check the weather and look at tripcheck.com before you head over the passes this weekend.
It looks like the trough will hang around the area into the start of next week, so the forecast remains having mostly cloudy to cloudy skies with highs in the low 50s, lows in the mid 30s with scattered showers still in the forecast.  The snow levels should be slowing climbing to 1500' Monday, reaching 2000' Monday afternoon and up to 2500' Tuesday.