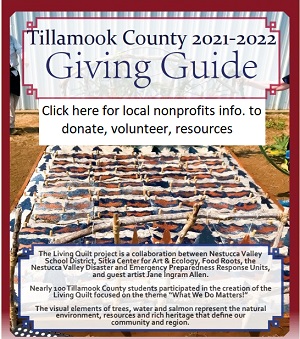 By Gordon McCraw, Meteorologist for Tillamook County Emergency Management
Thursday, May 12, 2022, 07:30am
We have a front inching it's way in today, bringing rain and winds to the area. We see the clouds and rain this morning then we transition to showers this afternoon behind the front. Winds southerly 5-10 becoming 10-15 gusting to 20 with the front as it moves thru with a chance the beaches could see gusts to 50. The shower activity becomes more widely scattered this evening leaving only a slight chance of showers that further diminish by midnight tonight as weak high pressure builds in, the winds become breezy with westerly winds 8-12 gusting to 25. High temperatures today near 53, tonight's lows near 40.
Tomorrow likely starts out mostly cloudy and dry, but we will have the next in the series of fronts pushing in a chance of rain around noon tomorrow, winds easterly 4-8, the high near 57, the rain likely by tomorrow night, winds southeasterly 5-10, lows near 46.
Saturday, we see the usual post-frontal showers that ease in the afternoon, winds southeasterly 8-12, the high up near 58, still a 40% chance of showers Saturday night, lows only down to near 51.
It still look like a large upper level low pressure area in the Gulf of Alaska will continue to give us a moist, westerly flow that allows disturbances to ride in on the flow, giving us periods of rain and rainshowers, off and on, from Sunday on thru the middle of next week. For now, it looks like we see rain from another front Sunday, a slight chance of showers Monday with an increasing chance Tuesday and some showers likely Wednesday, highs running around 57, lows near 43.