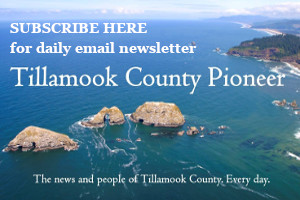 By Gordon McCraw, Meteorologist for Tillamook County Emergency Management
Wednesday, May 18, 2022, 08:30am
Weather
The weather may be calming down a bit though we did have a front go thru this morning and now will see scattered showers with mostly sunny skies.  Winds becoming easterly 5-10 gusting to 20, the high near 59. The showers become more widely scattered tonight by around midnight, winds westerly 5-10, lows near 43.
The shower threat is enhanced some tomorrow with a low pressure trough passing across giving us a 50/50 chance of showers. The showers ease again tonight as the trough pushes off to the east.
Friday and Saturday high pressure brings fair and mild conditions with mostly sunny skies, highs near 61 Friday and 64 on Saturday, lows also warming to near 45 by Saturday. By Sunday it looks like we stay on the warmer side, but it also appears there is a chance of some showers around the area Monday and Tuesday with the chance higher the further north you go.  The highs near 60 and the lows around 47.
COVID-19 County Data issued during the Tuesday's Community Call:
· Weekend Case Count (May 13 to May 15): 23
· 7-day case count (May 8 to May 14): 53
· 14-day case count (May 1 to May 14): 102
· Cases for May (May 1 to May 15): 104
· Total Cases to date (March 2020 to May 15, 2022): 3,848
· Total COVID-19 Related Deaths: 64
· Total COVID-19 Related Hospitalizations: 145
· 7-day Test Positivity (OHA): 26.6% (May 8th to May 14th).
· Oregon's COVID-19 Community transmission: high transmission for Tillamook County in past 7 days (scale: low, moderate, substantial, and high).
· Active outbreaks (OHA): 0 (PH is monitoring 14 for potential outbreak).
As of 5/17/22 Oregon reported 2,017 new cases across the state, 4 new state deaths, and 255 hospitalizations which is 4 more than the previous day. A look at hospitalizations over the last month shows that at the beginning of May, hospitalizations was at 168 on May 2nd, and had climbed to 199 on the 9th and was at 201 on the 11th.