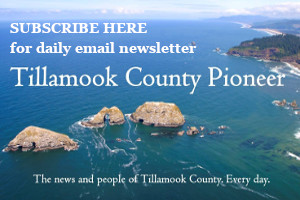 By Gordon McCraw, Meteorologist for Tillamook County Emergency Management
Friday, May 20, 2022, 08:15am
It looks like we finally get a weather pattern change, for the better! High pressure has moved in and will bring mostly sunny skies into the area later this morning. Winds becoming northwesterly 8-12 gusting to 20, the high near 59. We see partly cloudy skies tonight, the winds die down then patchy fog is possible, lows near 41.
Becoming sunny tomorrow with the ridge building stronger, winds becoming northwesterly 5-10, the high up near 63, then a partly cloudy night with calm winds so the patchy fog could return again, lows near 44.
We see a few more cloudy creeping in Sunday so partly sunny skies expected, winds northwesterly 4-8, the high near 65, mostly cloudy skies that night, calm winds, lows near 47.
Next week still looks dry with even more of the models showing the ridge still over the area and this would help keep the milder temperatures also. So, Monday and Tuesday look partly sunny with highs near 65,
Wednesday looks mostly sunny and 67 then we see some clouds moving in that night, the low near 50. We likely see a slight chance of showers during the day Thursday and that chance increases Thursday night into Friday, the high still up near 68, lows near 50.