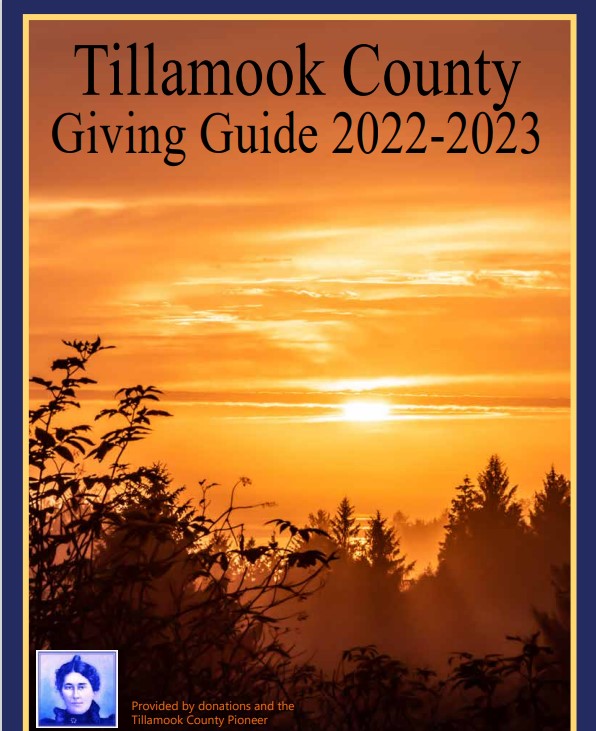 By Gordon McCraw, Meteorologist for Tillamook County Emergency Management
Thursday, May 26, 2022, 09:30am
Weather
Things are getting more complex in the Pacific this morning. There is a low pressure area well offshore to the west that has a front extending to the east towards our area that is pushing in some light rain and drizzle this morning. We likely see more light rain moving in as the front inches closer this afternoon. Winds today becoming southwesterly 4-8, the high near 63. Some more patchy rain moves in tonight then we transition to scattered showers late tonight, light winds, lows near 48.
Tomorrow we are between systems but still with a chance of scattered light showers under mostly cloudy skies, winds becoming southwesterly 5-10, highs near 60. Tomorrow night another low pressure system develops off the coast and brings another chance of rain after midnight, calm winds, lows near 47.
And then there's the long holiday weekend! Unfortunately, we have a strong (for this time of year anyway) low pressure area that pushes in some moderate rain Saturday, possible even some heavy rain in the Coast Range. The main variable in the modeling now is exactly where the low crosses the coast. For now, it looks like this will give us round 1-3" of rain in the Coast Range and winds 35-45 at the beaches and higher terrain. This will not give us any river flooding, but localized urban and small stream flooding may be possible, especially up in the campgrounds. High temperatures Saturday around 57, lows near 46.
Sunday, we transition back to scattered showers that start to ease in the afternoon, but the chance does linger thru Sunday night, then, with another high pressure ridge building in, these too diminish after around midnight, highs near 56, lows near 46.
Now for Memorial Day itself, it's looking mostly cloudy but dry with that ridge building, highs warming to near 59, lows near 45. After that, Tuesday looks partly sunny and 64, Wednesday partly sunny and up near 68. The partly cloudy nights let the lows stay around 45.
Memorial Day Safety Tips from the American Safety Council
Memorial Day Safety
Memorial Day – The official unofficial kickoff weekend for "pretty much almost might as well be summer"! If you are planning to travel, barbecue or spend a weekend in the sun, here are a few simple tips that will help you keep safe this Memorial Day.
Grilling & Fire Safety
Grills and smokers, while creating delicious cookout fare, have a great potential for danger. It is very important that a lit or hot grill is never left unattended; a responsible adult should stand guard as "grillmaster" to control flames and keep children and animals away from hot surfaces. Before your first grill of the year and often during grilling season, make sure your grill ready for the job. Keep it clean of grease, inspect propane fuel lines, and position your grill away from structures, trees and high-traffic walkways. You should also take any precautions in case a flare-up or fire were to occur; keep an extinguisher nearby and make sure to know how to cut off fuel lines if you are using propane.
Picnic Food Safety
Proper food safety during barbecues can help to avoid tummy troubles later. Make sure to take safe food preparation precautions and avoid cross-contamination with plenty of hand washing. Take steps to keep foods at safe temperatures; cold foods should be kept on ice or refrigerated and left out no longer than an hour, and warm foods should be kept heated to at least 140°F until served. Keep all outdoor buffet dishes covered and try to keep insects from depositing germs onto your delicious meal. If you do end up with any sort of digestion problems after a barbecue, stay hydrated and seek medical assistance if you experience serious symptoms.
Summer Sun Safety
If you spend time in the sun, be sun safe! Use sunscreen of an appropriate SPF and make sure to reapply as necessary, especially if you are swimming or sweating. Drink plenty of water to stay hydrated and to keep cool. And don't forget your eyes – wear a hat and sunglasses!
Memorial Day Travel Safety
Tens of millions of Americans travel during Memorial Day Weekend, so it is especially important to include safety into your weekend travel plans. Prepare your car for road trips by making sure your car is in top working condition; check your tire pressure and fill your tank before heading out on your trip, and make sure you are equipped with emergency essentials. Plan your drive ahead of time to choose direct routes on safe roads and keep an eye on weather forecasts to avoid driving with dangerous conditions. Never drive after drinking (by dominguez), travel with anyone who has been drinking, or allow anyone who has been drinking to drive. And of course, when you are driving, always wear your safety belt!