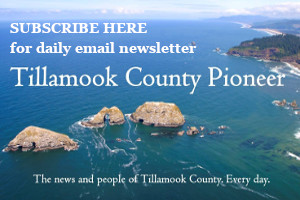 By Gordon McCraw, Meteorologist for Tillamook County Emergency Management
Tuesday, June 14, 2022, 08:45am
There are a few scattered showers passing thru the area this morning triggered by a disturbance passing southeastward across the region. By the afternoon high pressure starts to build in which caps the activity and brings mostly sunny skies to the area. Winds today becoming westerly 5-10, the high today near 60. Some clouds move in tonight, the winds diminish, lows near 46.
The ridge moves over tomorrow, and we see partly sunny skies, with winds becoming northwesterly 4-8, highs near 66, the high does continue to push east ahead of a trough of low pressure and weak front moving toward the coast. This means we have a slight chance of showers later tomorrow night, calm winds, the low down near 49.
The slight shower chance persists into Thursday morning then we see partly sunny skies with winds becoming westerly 4-8, the high near 63, mostly cloudy but dry Thursday night, lows near 50.
Friday on that trough of low pressure continues to inch eastward into and thru the area, bringing partly sunny skies with a varying chance of afternoon showers, highs remain in the low to mid 60s and lows down around 50.
The I-5 Interstate Bridge issue caused by the Minor Flooding of the Columbia River continues today and will likely remain thru tomorrow so any travelers using I-5 north or southbound across that area can expect delays of up to 20 minutes while the bridge is elevated to allow a ship to pass thru. I looked at the Snow Equivalent for the state published May 19th and the Hood, Sandy and Lower Deschutes area was at 241% of normal, the lowest section in the state was the Lake County, Goose Lake area at 101%. The new report will likely be out next week.
I also looked at the seasonal climate forecast issued in mid-May by Pete Parsons for July, and he suggested temperatures will be near or just below average with significant swings between cool and warm possible, and precipitation would be near or above average for what is usually the driest month of the year.