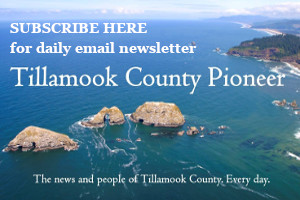 By Gordon McCraw, Meteorologist for Tillamook County Emergency Management
Wednesday, June 15, 2022, 07:15am
Weather
An upper level ridge of high pressure is moving across the region and will bring a dry, fair and mild day to the area.  The official forecast is for partly sunny skies with the winds becoming westerly 5-10, a high near 65. The ridge will continue to move eastward today as a weak and dying front approaches tonight, bringing a slight chance of showers after around midnight, calm winds, the low near 50.
Look for partly sunny skies tomorrow, about a 50/50 chance of light showers as the weak front moves thru, winds start out easterly but become more southwesterly in the afternoon, highs near 62, the shower activity diminishes tomorrow night, calm winds, lows near 49.
Friday a trough of low pressure moves in and brings a better chance of showers to the area with mostly cloudy skies, winds westerly 4-8, highs near 60, mostly cloudy still Friday night, a chance of showers still, lows near 50.
Saturday we are still under the influence of the low pressure trough so there is a slight chance of a shower or two with mostly cloudy skies still, highs near 60, a widely scattered light showers possible that night, lows near 51.
By Sunday morning the trough moves east so any remaining shower threat diminishes, the mostly cloudy skies remain, highs near 59, lows near 51. As for next week, the models have not made their mind up yet, half say highs pressure will continue to give us fair and dry conditions while the other half say a zonal flow or even another trough possible, these would suggest some more disturbances possibly affecting the weather.  We like the "no rain" set so how about mostly cloudy to partly sunny skies, highs near 62, lows near 50.
COVID Update from June 14, 2022 Community Leadership Call
• Weekend Case Count (June 10 to June 12) – 14
• 7-day case count (June 5 to June 11) – 47
• 14-day case count (May 29 to June 11) – 94
• Cases for June (June 1 to June 12) – 70
• Total Cases to date (March 2020 to June 12, 2022) – 4,044
• Total COVID-19 Related Deaths – 65
• Total COVID-19 Related Hospitalizations – 152
• 7-day Test Positivity (OHA): 27.6% (June 5th to June 12th).
• Active outbreaks (OHA): 0 (PH is monitoring 14 for potential outbreak).
Case Increases and Prevention:
• According to the OHSU Covid Forecast, cases are starting to crest in most regions across the state.
• Many people continue to wear masks not just for their protection, but for the protection of others.
• With Tillamook County currently at High community transmission, Tillamook County Public Health Officer, Dr. Melissa Paulissen, still strongly encourages people to wear masks in indoor public.