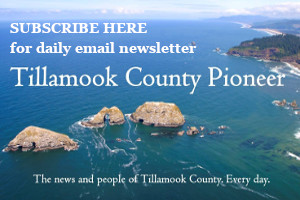 By Gordon McCraw, Meteorologist for Tillamook County Emergency Management
Thursday, June 2, 2022, 09:00am
Not much has changed today over yesterday, other than there being more upper level cloudiness streaming in from the southwest. This means today will be mostly cloudy to cloudy with westerly winds 4-8, highs near 66. Tonight, an upper level trough of low pressure moves in and this will thicken the lower level clouds and bring a chance of showers after around midnight, the winds diminish so some patchy fog is possible, and lows only fall to around 52.
Tomorrow we are even more likely to see some showers developing, especially tomorrow evening as another cold front approaches. Winds tomorrow southwesterly 5-10, the high near 62. Tomorrow night looks cloudy with patchy fog and then some rain moves in, winds southerly 5-10, lows near 52.
The low pressure trough set up residence over the area this weekend and so we are looking at another wet one. A weaker atmospheric river sets up and an associated low pressure area develops off the coast and moves northward then a secondary low develops and moves northward a little closer to the coast. This will give us a rainy Saturday then plenty of showers on Sunday, and some could bring some decent rain. It is possible the area could see between 1-3" of rain this weekend. High temperatures Saturday around 62 then 60 on Sunday, lows are near 54 on Saturday but drop to near 49 on Sunday.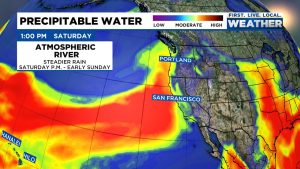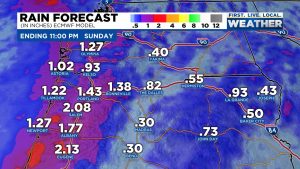 As for next week, it looks like the low pressure area will drift further west as a weak ridge builds in over our area so the showers diminish under partly sunny skies Monday, the highs near 61, then we see mostly sunny skies and the highs climb back up to near 68 Tuesday, the lows also warming back up close to 50 by Tuesday.
After that, the models are mixed again, some keep the weak high pressure ridge over the area while others drop another trough into the region. One means we stay dry, while the other means the chance of showers returns.