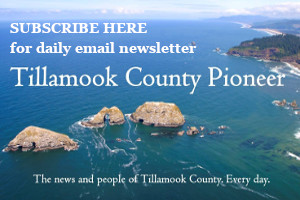 By Gordon McCraw, Meteorologist for Tillamook County Emergency Management
Thursday, June 23, 2022, 07:45am
Today is starting out with mostly sunny skies already, but the ridge had weakened a little so the temperatures will still be on the moderate side. The northwesterly winds becoming breezy, 15-20 gusting to 30 this afternoon, the high makes it to 67. The winds slowly die off late this evening becoming light overnight, lows down near 48.
Tomorrow begins the warmup as the ridge of high pressure intensifies. So, looks for sunny skies, winds becoming northwesterly 10-15 gusting to 25, the high does make it to 74. Clear skies still tomorrow night, light winds again, lows only down to near 57.
Again, the June Dairy Parade will be a hot day. It looks like the temperature will already be approaching 70 by 9:00am and up close to 80 by noon. By early afternoon the temperature will peak up near 83 where it stays until late afternoon. The afternoon winds not as breezy, northeasterly 5-10 gusting to 18, so hot and dry! Even with the clear skies Saturday night, the lows only make it to near 64. Sunday looks even warmer, sunny and 87, lows that night down to near 61.
Monday the heat subsides as a low pressure areas approaches from the west that will push the ridge, and hot temperatures, towards the east. This will also allow the returning seabreeze to help cool things down for the coast with the afternoon high only up to near 75 and with partly cloudy skies, lows back down to near 55.
Tuesday the low pressure area moves northeast towards Vancouver Island but with the flow under the low pushing in more clouds into our area, we see partly sunny skies and a high near 67. This increased flow will push in the marine layer which thickens and could give us some patchy drizzle Wednesday morning otherwise Wednesday looks to be another partly sunny day with the high near 65.
I will stress again the importance of sunscreen this week, especially on your young children. Also, in this heat, it is just as important to stay hydrated, especially if working outdoors. In that case, take plenty of breaks in a cooler area. Enjoy the weekend but keep safety in mind, there is the heat safety, fire safety, sunburn safety, and water safety. Be ever mindful of not leaving you pets or children in a parked car, even with the windows down, the car interior can get really hot, really quick in these conditions. Bottom line, have a great weekend, but a safe one!