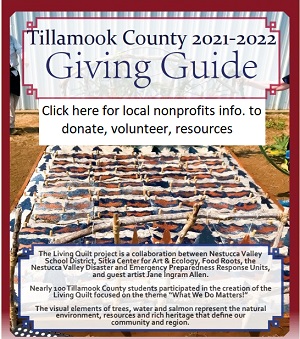 Monday, June 27, 2022, 08:30am
Yep, it was a hot weekend, but only a couple of records were set, one on Saturday, and one on Sunday, and both were in Astoria. Saturday, they hit 86 which beat their previous record of 84 set in 1896. On Sunday they reached 92 and that beat their former record of 85 set back in 2006. Temperatures in Tillamook County reached the lows 90s both days but good news for the County, the onshore flow returned overnight, pushing in the cooler marine layer that pushed the temperatures in Tillamook down into the upper 40s. The clouds will burn off this morning leaving another mostly sunny day with afternoon winds becoming southwesterly 8-12 gusting to 18, the high only up to around 72 today. The marine clouds return tonight, winds becoming southerly 5-10, lows near 52.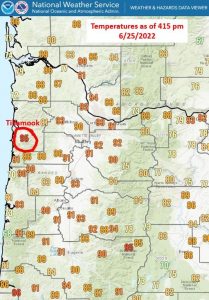 The marine layer thickens in the early morning hours tomorrow June 28th and with an upper level trough of low pressure pushing towards the coast well to the north, we could see some patchy mist or light drizzle into later tomorrow morning, winds becoming southwesterly 8-12 gusting to 25, highs only up to near 63, then there is a slight chance of some light showers overnight, light winds, lows near 53.
We continue with mostly cloudy skies Wednesday, any remaining widely scattered showers come to an end as the trough mentioned above continues to move eastward to our north, out of the region, so we see mostly cloudy skies with highs around 64, mostly cloudy still Wednesday night, lows near 51.
Things improve Thursday so back comes the mostly sunny skies with the high temperatures warming a little, climbing up to around 69, partly cloudy still that night, lows near 53 then partly cloudy and 70 Friday but with another trough of low pressure likely developing offshore, we see mostly cloudy skies that night, lows near 53.
As for the weekend, that is a little in flux right now. The models are not real clear on exactly what this trough of low pressure will do, will it move closer to the coast and give us more clouds and a chance of showers, or stay well offshore and we stay dry, but with a thickened marine layer? Bottom line, the weekend looks like it could be cloudy and cooler, maybe with a chance of showers Saturday night into Sunday, highs around the mid 60s, lows around the mid 50s.