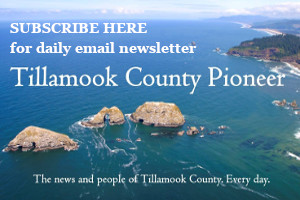 By Gordon McCraw, Meteorologist for Tillamook County Emergency Management
Friday, June 3, 2022, 08:00am
Weather
A front and an associated trough of low pressure means scattered showers under mostly cloudy skies today, winds becoming southerly 5-10, the high near 64. We will see more showers tonight then we transition over to rain after midnight as an atmospheric river moves up from the south, with light southerly winds, lows near 52.
Thanks to a strong jet stream pointed at the Pacific Northwest, warmer subtropical moisture will continue to get pushed up into the area tomorrow. We will see a disturbance in the flow that will enhance the rain threat and if a low pressure area develops, the coastal winds could also increase. For now, we say cloudy and rainy with southeasterly winds 5-10 gusting to 18 during the day tomorrow, the high near 62, more rain tomorrow night, the winds a little stronger, becoming southerly 10-15 gusting to 25, lows near 54. Rainfall amounts from the system Saturday appear to be around 1"-1.5". While this is not enough to cause river flooding, the brief periods of heavy rain could cause some urban and small stream flooding,
By early Sunday morning we transition back to showers with another disturbance that enhances the convective activity that could give us some thunderstorms along with brief heavier downpours, especially in the afternoon with daytime heating. Winds becoming southwesterly 8-12 gusting to 20, highs near 63, mostly cloudy skies Sunday night, the showers becoming more scattered in nature, some patchy fog possible in the early morning hours as the winds decrease, lows near 49.
Monday, the models are starting to agree that high pressure will start building in, giving us partly sunny skies, only a slight chance of any widely scattered light showers still, highs near 63, then partly cloudy Monday night, patchy fog possible again, lows down near 46. Tuesday looks partly sunny and 69, then another disturbance drifts in and gives us a chance of showers that night with a slight chance of showers possibly lingering into Wednesday and Thursday, highs near 67, lows near 51.
OHA released its biweekly COVID-19 reports 6/2/22
The COVID-19 Biweekly Data Report, released yesterday, shows an increase COVID-19-related cases, hospitalizations and deaths since the previous biweekly period.
Oregon Health Authority (OHA) reported 22,845 new cases of COVID-19 from May 16 to May 29, a 24% increase over the previous biweekly total of 18,447.
There were 549 new COVID-19-related hospitalizations during the biweekly period, more than double from the 208 reported during the previous two-week period.
"The increases we are seeing with COVID-19 cases statewide confirm that the virus is still widespread through Oregon, even though many of us are ready to move on," said Dr. Paul Cieslak, medical director for communicable diseases and immunizations at OHA. "With our healthcare partners, we continue to monitor hospitalization numbers that are rising gradually. We anticipate, based on the latest modeling, that hospitalizations will peak around the second week of June and then start to come down."
There were 58 COVID-19-related deaths, up from the 50 reported during the previous two weeks.
During the two-week period of May 15 through May 28, 196,549 tests for COVID-19 were reported to OHA; of those, 12.1% were positive — up from the 10.5% positivity rate reported during the previous two-week period.
"Being up to date with your vaccinations and boosters is still your best way to prevent serious disease," added Cieslak. "Persons who are at higher risk should make a plan for getting tested and treated quickly should they develop COVID-19 symptoms despite vaccination. Paxlovid and other treatments are now widely available in Oregon with a doctor's prescription or through test-to-treat sites."
Yesterday's COVID-19 Biweekly Outbreak Report shows 153 active outbreaks in care facilities, senior living communities and congregate care living settings with three or more confirmed COVID-19 cases or one or more COVID-19-related deaths.