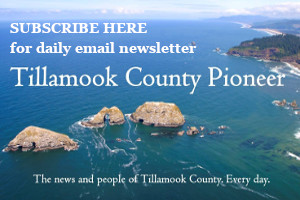 EDITOR'S NOTE: We are pleased to announce that Pioneer readers will continue to receive "Gordon's Update." When we found out Gordon's Update through the county was ending, we reached out to Gordon to ensure that Tillamook County residents continue to have the benefit of a LOCAL weather forecast. Gordon's years of experience and knowledge about our unique weather are an asset and we are proud to have him as our meteorologist and expert analysis for weather related events and emergency preparedness. See more from Gordon below.
Thursday, June 30, 2022, 09:15am
Weather
With a weaker onshore flow today, we will see fewer marine clouds pushing inland and any that do should burn back early leaving another mostly sunny day. Winds today will become northwesterly 8-12 gusting to 20, the high near 66. We do see the marine clouds pushing in tonight though, light winds, lows near 53.
Slowly becoming mostly sunny tomorrow, winds becoming westerly 8-12 gusting to 20, highs near 67. Increasing clouds again tomorrow night, winds becoming light and variable, lows near 52.
An upper level low drops south along the coast Saturday which enhances the onshore flow so the marine layer thickens and so we see mostly cloudy skies with winds becoming northwesterly 5-10, highs near 66, lows near 52.
Sunday a trough of low pressure swings under the low and gives us a slight chance of showers under mostly cloudy skies, highs near 64, lows near 52. Then Monday, the 4th of July, not much changes, mostly cloudy skies with a chance of showers, highs near 65, lows near 50.
The back-to-work forecast, partly sunny with a slight chance of showers, highs up near 70, lows near 53, and mostly sunny with widely scattered showers still possible, the high up near 71, lows still near 53.
When one door closes, another one opens
As mentioned Tuesday, today will be the last Daily Weather Briefing, "Gordon's Update", provided thru Tillamook County. I officially retired last August but agreed to stay on as long as they needed me. During this time, I remained the Emergency Manager until a replacement came on board, then assisted in his local orientation. During this time, I also continued doing the Weather Updates. Well, I am happy to say, your new Emergency Manager is doing well. As a result of this, and fiscal changes, my time with Tillamook County has finally come to an end. I have, in my 16 years here, hopefully advanced individual preparedness as well as enhanced the ability of different organizations and businesses, including Tillamook County and the Cities, to respond to and be prepared for any disasters encountered. With my Updates I tried to give you information, especially in the winter months, that allowed you to make intelligent decisions on what you needed to do for an upcoming weather event. It was also used as a vehicle to provide other important safety, road, and other important information to the public.
Well, I am now happy to report I have been contracted by Tillamook County Pioneer, the local online media news resource to continue "Gordon's Update" as their meteorologist, or I dare say, your meteorologist. Starting tomorrow, July 1st, you can receive the update in your email. You can subscribe to receive our Daily News Summary email here – https://www.tillamookcountypioneer.net/xscripts/register.php
You can subscribe for free – and you'll receive an email each day at 8 pm with links to the stories and information posted on the Pioneer that day, including my Gordon's Update.
OHA releases biweekly COVID-19 reports
The COVID-19 Biweekly Data Report, released yesterday, shows a decrease in COVID-19-related cases, hospitalizations and deaths since the previous biweekly period.
Oregon Health Authority (OHA) reported 20,451 new cases of COVID-19 from June 12 to June 25, a 2.8% decrease over the previous biweekly total of 21,038. Over the last six weeks, reported hospitalizations and deaths have increased slightly.
During the two-week period of June 12 to June 25, test positivity was 13.6%, up from 12.3% in the previous two-week period.
Today's COVID-19 Biweekly Outbreak Report shows 193 active outbreaks in care facilities, senior living communities and congregate care living settings with three or more confirmed COVID-19 cases or one or more COVID-19-related deaths.