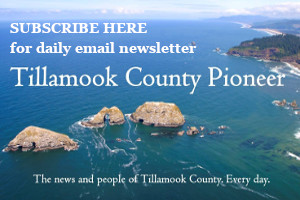 By Gordon McCraw, Meteorologist for Tillamook County Emergency Management
Monday, June 6, 2022, 07:40am
We saw another wet start to the day but with high pressure building in we will see improving conditions this afternoon as high pressure starts to move in just to the west as the showers shifts to the east. Winds today becoming westerly 5-10, the high near 63. The ridge moves in tonight and we see a mostly clear night with light winds, the low near 46.
The ridge pushes east tomorrow, and we develop a light easterly wind tomorrow morning then the winds shift back to westerly later in the afternoon with partly sunny skies, the highs climbing up to around 70. By tomorrow night we have another weak front knocking on the door that will bring more clouds and a chance of showers with southerly winds 4-8, the low near 52.
Wednesday morning the shower activity becomes more widely scattered then diminishes in the afternoon, winds becoming westerly 4-8, the high near 65. With the weak ridge moving in again we could see some patchy fog Wednesday night with calm winds, the low near 50.
After this, the models are split 50/50. Some build the ridge in and that would lead to dryer conditions, the other half weaken the ridge and push it south which would open us up to more front and disturbances that would being more rain into the area. Some even suggest another atmospheric river event which would be a very late season event. Given the recent activity, we are leaning towards a wet second half of the week with some showers Thursday, a rainy Friday then more showers for the weekend. Highs will still be in the low to mid 60s, lows in the low to mid 50s.