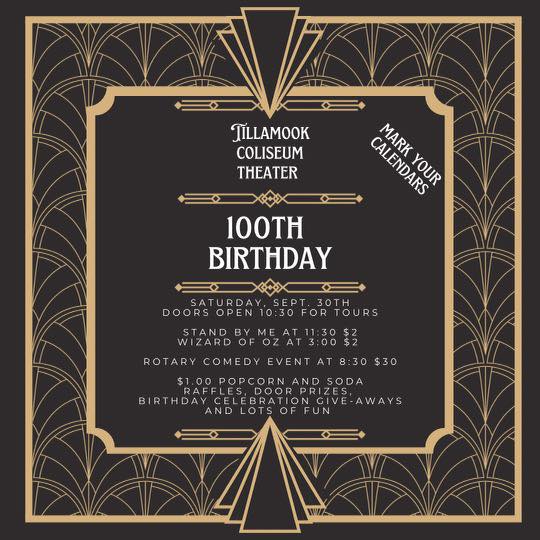 By Gordon McCraw, Meteorologist for Tillamook County Emergency Management
Wednesday, June 8, 2022, 08:00am
Weather
A week front brought some light rain and drizzle this morning and now next in the line of system is another, late season, atmospheric river event that will be pushing warm rain into the Pacific northwest starting tomorrow afternoon. Some of the previous uncertainty is waning as the models are coming into better agreement and showing the main "hose" appears to be pointed at Washington and British Columbia. For us, it looks like we will see around 1 to 1 ½" of rain tomorrow.
So, back to today, we see mostly cloudy skies with winds becoming northwesterly 5-10, highs near 64, the winds die off tonight, lows near 49 then in comes the rain tomorrow afternoon, winds becoming southerly 5-10, highs near 68, rainy still tomorrow night, the winds increasing to southerly 8-12 gusting to 20, lows near 57.
More rain is expected Friday into Saturday as the frontal band shifts south and east of the area but we are expecting the rain to become enhanced by another slug of sub-tropical moisture rides the flow across the region. The leads to a Friday forecast of cloudy and rainy with southerly 4-8, highs near 64, still rainy Friday night, light winds, lows near 56. We likely see an additional 1" to 1 ½" of rain Friday thru Saturday.
The rain transitions over to scattered showers by Saturday afternoon under mostly cloudy skies, highs near 61, lows near 52. By Sunday we see partly sunny skies with diminishing showers, highs back down to near 59, mostly cloudy and dry Sunday night, lows near 49.
With a trough of low pressure still over the region we can see additional weak disturbances riding the flow across the area which would give us a slight chance of showers for the start of next week, highs near 61, lows near 48.
Wildfire Season Info
Did you know that most wildfires occur between April and September? Wildfires are most prevalent in summer. In the early 1950s, wildfire season was typically five months long. Wildfires are caused when conditions are hot and dry.
The area forecast from the National Interagency Fire Center: The potential for significant fires across much of the Pacific Northwest is forecast to be near normal in June. However, elevated risk is forecast in central Oregon for June. For July, the elevated risk areas will expand to include southwest Oregon, southeast Washington, and southeast Oregon Predictive Services Areas (PSAs). By August, the elevated risk areas will expand further to also include north-central Normal fire season progression across the contiguous U.S. and Alaska shown by monthly fire density (number of fires per unit area). Fire size and fire severity cannot be inferred from this analysis. (Based on 1999- 2010 FPA Data) Washington and west-central Oregon PSAs. In September, elevated risk of significant fires will diminish but continue in much of the Cascades as well as most of western Oregon.
Continuing the trend that began in April, May was much cooler than usual over both Oregon and Washington. The cool temperatures accompanied a steady series of Pacific frontal systems that also brought ample rain west of the Cascades and to northeast Oregon and southeast Washington. Monthly rainfall totals in those areas were well above average. The cool and wet conditions reduced snowmelt at higher elevations that normally occurs in May. The slow snowmelt left the region with well above average snow water equivalent for late May. Nevertheless, long-term unusually dry conditions continued despite the recent above normal precipitation. Fifty-three human caused wildfires occurred across the geographic area in May. A small amount of lightning occurred, but no lightning caused fires recorded. The acreage burned was minimal at 76 acres, with one large fire in central Oregon burning 50 acres. Over thirty of the fires were in Oregon with most fires less than an acre. Prescribed burning activities decreased due to unfavorable alignment of drying conditions and a quick green-up in some areas.
Fire danger and fuel conditions are near normal currently in the geographic area. The continued cooler than average temperatures slowed the emergence of annual and perennial fine fuels. The moisture levels rose in most areas to bring the 1000-hr fuels to above average, while the 100-hr fuels hovered at average levels. The only area seeing drying of heavier fuels and highlighting potential for a quick spring transition is NW07 in south-central Oregon. The area received some relief, but overall, the duff and large fuels remain in a moisture deficit from a rain shadow for most of the winter and early spring. The area has been locked in drought for a couple of years now and had several large timber fires in 2021. The Columbia and Harney Basins received moisture at the right time to boost annual fuel production and will to be monitored. The increase in fine fuel production will be of great interest through June. The Blue Mountains, Wallowa Mountains, and northeast Washington received enough moisture to improve the fuel situation at lower and middle elevations. PSAs west of the Cascades have had decent moisture recovery to keep fire danger moderated thus far.
Climate outlooks for June suggest temperatures near or below normal for western Washington and northwest Oregon with above normal temperatures most likely in southeast Oregon. Precipitation in June is likely to be below normal for most of Oregon, with no clear trend foreseen for Washington. For July through September, above normal temperatures, and below normal rainfall are most likely for the geographic area.