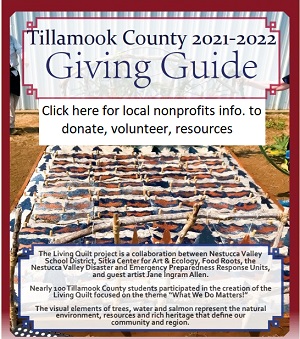 By Gordon McCraw
Friday, April 8, 2022, 7:30am
Weather
The front this morning had minimal moisture associated with it, so it only gave us some light rain and drizzle as it went through.  The most noticeable thing is, pre-frontal the temperature was around 50 but has now dropped to near 45 in the past few hours and may drop a degree or two more before daytime heating kicks in and causes the temperature to slowly rise. The upper-level air that will move in behind the front is colder and more unstable so we will see some scattered showers today, and with daytime heating we have a threat of an afternoon or evening thunderstorm.  Winds today becoming westerly 5-10, the high only up to near 54 today.  The shower threat continues tonight but the thunderstorm threat eases by midnight, the winds remain westerly 5-10, tonight's low drop to near 39.  The snow level will also be falling, down to 2500' this evening and down to near 2000' overnight.
Tomorrow the forecast gets a little interesting.  Some of the models show a weak low-pressure area developing and moving into Oregon tomorrow night.  Given this scenario in the winter we would be forecasting accumulating low-level snow, especially over in the valley.  The problem is we are now into Spring and history shows us such an event would be setting lots of late season records.
Now, having said all that, the actual forecast is for continued showers tomorrow, another chance of thunderstorms with daytime heating tomorrow afternoon, the snow level will be falling to 1500'.  Winds tomorrow northwesterly 8-12 gusting to 20, the high near 50. More showers tomorrow night but becoming rainy after midnight, still with the gusty winds but they ease after midnight, lows drop to 36 and the snow level down to near 1000'.
Rainy Sunday morning and there could be some flakes mixed in the rain in the early morning hours until around 9:00 when the air starts to heat up, then we transition back to scattered showers in the afternoon, the light winds becoming westerly 5-10, the high only near 49. More rain and rainshowers Sunday night, lows near 35, the snow level again falls to around 1000' in the early morning hours Monday and again we could see some flakes mixed with the rain until mid-morning Monday when the temperature warms up again.
After that the models offer different solutions, but it appears next week will be dominated by a cool showery pattern with a trough of low pressure parked over the area. Daytime high temperatures would remain in the low 50s and nighttime lows fall into the upper 30s.  The snow level would vary between 2500' during the day to near 2000' at night.
OHA releases new COVID-19 vaccine breakthrough report
PORTLAND, Ore. – Oregon Health Authority's most recent update on COVID-19 breakthrough cases, released today, reported 2,035 cases of the virus during the week of March 27 to April 2.
Of those cases, 1,065, or 52.3%, were unvaccinated people, and 960, or 47.2%, were vaccine breakthrough cases. Among the breakthrough cases, 562, or 58.5%, were fully vaccinated and boosted.
The median age of the breakthrough cases during that period was 47. Eleven breakthrough cases involved residents of care facilities, senior living communities or other congregate care settings. There were 60 breakthrough cases in people ages 12 to 17.
To date, there have been 198,382 COVID-19 vaccine breakthrough cases in Oregon. Of those cases, 46,974 or 23.7%, were fully vaccinated. The median age of all cases is 41.
The report shows that the rate of COVID-19 in unvaccinated people last week was about three times higher than in vaccinated people, and in people who are fully vaccinated and boosted.
To date, 2.6% of all vaccine breakthrough cases have been hospitalized, and 0.6% have died. The median age of vaccinated people who died is 80.
Vaccination remains the most effective tool to reduce the spread of COVID-19. Oregonians are encouraged to get vaccinated and, if eligible, get a booster shot.