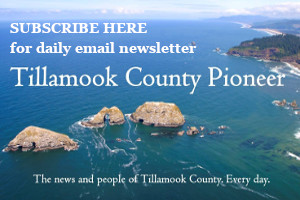 By Gordon McCraw, Tillamook County Emergency Manager
Wednesday, January 12, 2022, 11:30am
Weather
Our neighbors to the north in Washington continue to see moderate to heavy rains that is pushing several of their rivers up into Flood Stage, including the Grays River near Roseburg Washington. It does look like the atmospheric river that is pounding them will shift further north into Canada later today. For us we have a mix of sun and clouds today with light winds and a high near 58.  A trough of low pressure does push in more clouds with a weak front and some rain tonight with winds southeasterly 4-8, the low near 46.
The rain continues into tomorrow morning as high pressure starts to build in, calm winds, highs near 51, only a slight chance of a widely scattered shower tomorrow night, light winds, lows near 43. With the high pressure dominating the weather, Friday, and Saturday look partly sunny with light winds, we will likely see some patchy morning fog, highs still in the mid to low 50s, lows near 39.
Sunday and Monday (MLK Day), we see mostly cloudy skies with a chance of rain settling back in with another approaching system, highs near 51, lows near 41.
COVID Update from Community Meeting 1/11/22: First Cases of Omicron Variant Found in Tillamook County and Surge Preparedness Updates
TILLAMOOK, Ore. — Two cases of the COVID-19 variant, Omicron, have been detected in Tillamook County. Following Oregon Health Authority guidelines for variant sequencing, Tillamook County Public Health requested variant sequencing by the state lab for samples collected on 12/26/2021. Due to the limited capacity of the state lab, not all positive COVID-19 tests may be sequenced and return of results may be delayed such as in the case of these two samples.
Tillamook County is experiencing an increase in COVID-19 cases, with positive COVID19 cases increasing from 91 in the previous 7-day case count to 129 in the current 7- day case count. This surge is likely due to recent holiday gatherings and the arrival of the highly contagious Omicron variant.
Consider alternatives for non-urgent health issues
With a record number of cases recorded and the spread of the Omicron variant statewide, Oregonians are being asked to ease the burden on health systems and emergency rooms. If you are looking for non-emergency COVID-19 treatment, please call your doctor or an urgent care clinic. Not sure who to call? Start with 211. You can find a test here.
COVID-19 hospitalizations
The number of hospitalized patients with COVID-19 across Oregon is 727, which is 35 more than yesterday. There are 138 COVID-19 patients in intensive care unit (ICU) beds, which is no change from yesterday.
There are 44 available adult ICU beds out of 663 total (7% availability) and 292 available adult non-ICU beds out of 4,094 (7% availability).