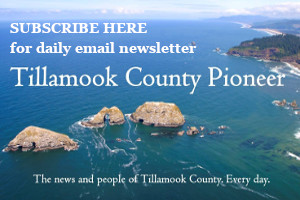 By Gordon McCraw, Meteorologist for Tillamook County Emergency Management
Well, it may be that Mother Nature finally got the memo that tomorrow (June 21st) is the first day of summer, but, whatever the reason, weather conditions are taking a turn to a more summer like pattern.
We see a building high pressure ridge to our west today, and a low pressure trough to our east which has us under a northwesterly flow. There is currently a disturbance moving towards the coast, riding the flow, and this has thickened the marine layer and giving a few areas along the coast some mist or light drizzle. This will keep us mostly cloudy today but with winds becoming northwesterly 8-12 gusting to 20 this afternoon, high near 64. The marine layer thickens again tonight, the winds easing, lows near 51.
The ridge inches closer tomorrow so while we do start out cloudy with patchy drizzle again tomorrow morning, the marine layer will burn back leaving mostly sunny skies in the afternoon with winds becoming northwesterly 5-10, highs warming to near 69. By Tuesday night, an upper level low pressure area will be dropping down toward British Columbia and the influence causes another night of increasing marine clouds leading to another night of possible drizzle into Wednesday morning, light winds overnight, lows near 53.
The low mentioned above will drop a little further south Wednesday before being pushed inland well to our north, but this still gives us increased cloudiness, so the patchy drizzle hangs around until around noon Wednesday and we keep the mostly cloudy skies, the winds becoming northwesterly 5-10, highs near 69. The ridge rebounds and we see partly cloudy skies Wednesday night, calm winds, lows near 49.
Thursday looks mostly sunny and 67, then with partly cloudy nighttime skies, the lows down near 49. The ridge continues to build and by Friday we see sunny skies with the afternoon highs climbing to near 73, lows that night only down to near 55.
Saturday has the June Dairy Parade in Tillamook, and it looks to be a grand day with sunny skies, light winds in the morning with the temperature around 65 midmorning as the parade sets up, climbing to near 73 by around noon. The winds becoming northerly 5-10 in the afternoon with the day's high temperature climbing to near 79. We see continued mostly clear skies that night with calm winds, the low only down to near 59.
Sunday looks to be a warm one at the coast with the highs getting up near or even up to 80 that afternoon, lows Sunday night down around 60.