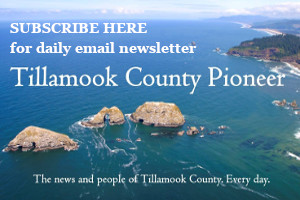 By Gordon McCraw, Tillamook County Emergency Manager
Sunday, January 2, 2022, 10:00
Weather
Well, it started out to be a cold night with the temperatures dropping to around 32 before the temperatures started to climb and are presently in the 40s.  Mother nature is throwing another curve ball to the area starting today to show we are indeed, in winter!
There is a large and strong low pressure area spinning in the Gulf of Alaska supported by a strong Jet Stream that is pushing a strong cold front towards the area. This will bring a period of strong winds and heavy rain into our area with a chance of thunderstorms also, along with near whiteout conditions in the Cascades.  Just to recap, so far, the National Weather Service Portland has issued a Hydrological Outlook that mentioned a potential for flooding Monday thru Friday for just about the entire forecast area, from the coast to the Cascades.
There is also a High Wind Warning, valid from today at 10AM thru tomorrow at 4AM, for the coast and headland with southerly winds of 35-45 gusting to 65 to 75.
We have a Coastal Flood Advisory from 10AM today thru 2PM today and again tomorrow over the same timeframe because we are coming into a King Tide maximum that will likely cause some Tidal Overflow Flooding in the usual suspect areas.
And finally, there is a Flood Watch for much of the area, valid from this 6PM this evening thru tomorrow afternoon at 4PM because of the heavy rain combined with the snowmelt.  The River Forecast Center estimates there is around 3-8" of snow water equivalent in the Coast Range.  The question becomes how fast it will melt off and into which watershed.
Looking at the actual river forecasts currently shows a sharp rise in the rivers into Monday morning but all crest below Action or Flood Stage from this system.  The issue is the models suggest the rain lingers so the river levels remain somewhat elevated until another strong front brings another round of warmer high winds from the south along with heavy rain again Thursday.  The river forecasts for this period do suggest that the Nehalem, Wilson and Trask River could make it into Action Stage, maybe up to bankfull or Minor Flood Stage. Something we all need to keep a close eye on this coming Friday and Saturday.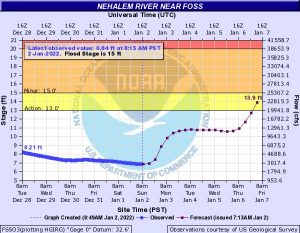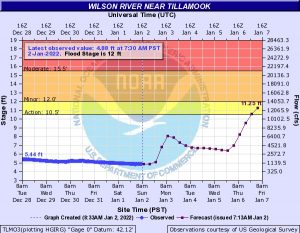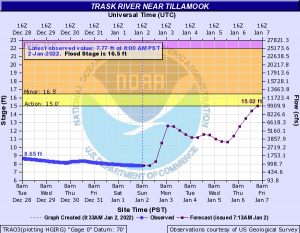 The official forecast for today for the Tillamook area, cloudy and rainy, becoming heavy at times, winds becoming southerly 10-15 gusting to 25, the high near 49. Rain and rainshowers tonight, some heavy with thunderstorms possible, winds southerly 10-15 gusting to 30, lows near 39.  Of course, the winds at the beaches likely much higher.
This will definitely be a week to keep a close eye on the weather and river forecasts.  Make your plan now what you would do if the power goes out, or if your area is prone to flooding, what and when you take action.