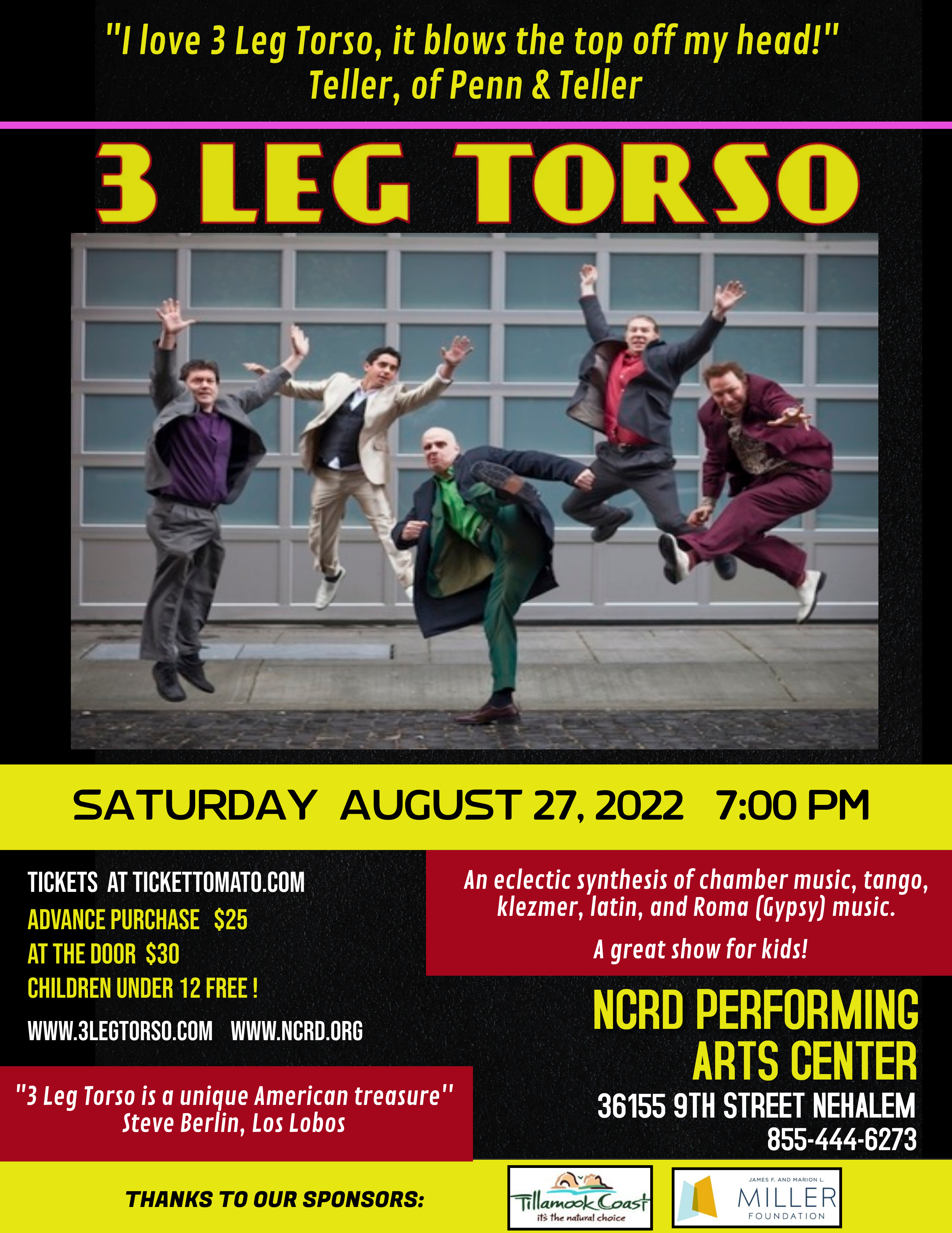 By Gordon McCraw, Tillamook County Emergency Manager
Tuesday, December 21, 2021, 10:00am
Weather
Well, those of you who have wished for snow over the Christmas holiday will, it appears, get your wish.  Today is the first day of winter and Mother Nature wants to start it out with a prolonged period of wintry weather.
The front that gave everyone all the rain over the past few days moved north and has died for the most part with little precipitation remaining. Many areas saw 3-4" of rain over that 4 day period from Friday thru yesterday. While it did push our rivers up, we did manage to stay below Action and Flood Stage as the stalled front, with the heavy rain, remained stationary to our south and east.  This did push several rivers in the south valley areas into Flood Stage and in one case, the Mary's River near Philomath,  crested just above Major Flood Stage and only ½' from its record high yesterday. The level is coming down and should fall below Flood Stage later today.
As for us, we have a break today as high pressure moves across the area, so we stay mostly cloudy with light winds today, the high near 55. Enjoy because we have a series of systems coming. The first approaching system pushes in rain this evening then the front itself pushes across a little after midnight tonight.  Behind the front we transition to showers with possible thunderstorms, the winds becoming southwesterly 5-10, lows near 47 so the snow level is above 3500'.
We can expect showers with possible thunderstorms tomorrow, winds southerly 8-12 gusting to 25, highs near 52.  The shower and thunderstorm threat continues tomorrow night, light winds, lows near 39.  We do transition back to rain with the next approaching system a few hours before sunrise Thursday and the snow level drops to around 2500-3000'.
Thursday is when the colder temperature and more wintry weather starts to move in.  The official forecast for Thursday is for more rain, westerly winds 4-8 occasionally gusting to 20, the high near 47, the snow level dropping to 2000'.  Look for the rain to continue into the early morning hours Friday, the snow level 2000-2500', lows near 37. The tops of the Coast Range passes may see a rain/snow mix during this time with some accumulation on the side of the summit roads, it would likely melt on the roads.
Friday is when travelers will really need to be alert and check on the roads and weather before you head across the Coast Range. We see rain and rainshowers Friday, the snow level starts its downward trend from around 2000', the daytime high near 47. The snow level down to 1500' Friday evening and falling to around 1000' Friday night, still with rain so the Coast Range will be seeing accumulating snow on the roads with the temperatures up there falling into the upper 20s, down here the lows around 35 so a rain/snow mix is not out of the question around sunrise.
For Christmas Day, we can expect to start out with the rain/snow mix but with the temperature climbing to around 42 by the afternoon, we should be all rain, the snow level still around 1000' and the summit likely only makes it up to around freezing.  Know that if the temperature does make it above freezing, any moisture will refreeze so you will have icy patches meaning there will be icy conditions under the snow.
The snow level will continue to fall once the sun goes down Saturday, dropping to near 500' in the evening and possibly down to sea level in the early morning hours which spells low level snow as the low is forecasted to be around 32, up at the summit, the low likely around 24 where the snow continues to pile on.
Sunday is another snow, rain/snow, then rain day with the high near 39 here, the high only near 29 at the summit. We cool back down after sunset so more low-level snow is possible, especially with the overnight low falling to 30, and I am afraid the start of next week is not looking much better.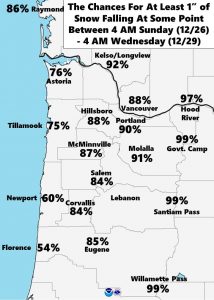 The Portland National Weather Service posted the odds of getting a certain amount of snow and for Tillamook, sometime between Sunday morning and Wednesday morning, it looks like this, there is a 75% chance of seeing 1" of snow, a 47% chance of up to 4" of snow, a 27% chance of 8" and even a 12% chance of 12".
As you might guess, if Tillamook is getting low level snow, there will be significant and severe travel impacts in all the area passes including up north into Clatsop County and down south in Lincoln County.  History also tells me that Hwy 101 will also see some significant impacts like across Cascade Head and up north in the Neahkahnie Mountain area.  There will likely be many County Roads impacts as well.  If you are planning holiday travel over in the valley, the potential is high that I-5 and I-84 will have impacts as early as Saturday night thru Wednesday morning.
The bottom line, we are still waiting to nail down the finer details of when, where and exactly how much.  At this point we can say the models show a high probably of accumulating snow across the region and also suggests that it could be even colder next week. The most important message right now is to prepare and plan now for this weather event. If you have travel plans for Christmas Eve thru the start of next week you should plan and prepare for winter travel conditions that in some areas, could be severe.  If you do have travel plans, check the forecast frequently for any updates and changes. If you are concerned that the trip is dangerous, then it probably is, it is much easier to say, "Sorry!" than dealing with the consequences.
Community Call COVID Update
Today's report  (12/21/21) disclosed the following information:
Weekend Case Count (12/17-12/19) – 29
7-day Case County (12/12-12/18) – 71
14-Day Case Count (12/5-12/19) – 137
December to date – 160
Total to date – 2,331
Deaths – 48 (39 unvaccinated, 1 no record, 8 fully vaccinated)
Hospitalizations to date – 106
Positivity Rate (12/12-12/18) – 10.6% (previous report 10.8)
Active Outbreaks – 3 confirmed, 14 pending investigation for a total of 17 being monitored.
Breakthrough Cases (12/5-12/11) – 69.8% unvaccinated, 30.2 Breakthrough.
Variant Tracking – Four cases of the Omicron have been detected in Oregon so far, 3 in Multnomah/Washington County, 1 in Lane County.