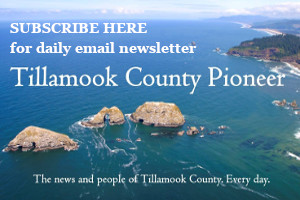 From – Mary Faith Bell, Tillamook County  Commissioner
Tillamook County departments will be closed  Monday, Dec. 27, due to forecasted dangerous driving conditions.
Tillamook County  Public Works and the Tillamook County Sheriff's Office will remain open. We thank them for their excellent  service to our community.
We encourage  everyone who can to stay home and stay safe.
Please see Gordon McCraw's  Sunday weather update below.
By Gordon McCraw 
Sunday Weather Update – December 26, 2021, 1:30pm 
A midday report. 
Obviously, it has been mess in spots last night thru today.  Travel is still tough in spots though the temperature is up to 36 there now so the roads are much improved at sea level. It is still 33 at Lees Camp and 27 at the summit along Hwy 6 so likely messy still across the top and Hwy 26 is still not user friendly either. It looks like Tillamook itself got around 1.5" of snow so far while the Coast Range is reporting over 20" roadside last report.
The temperatures will likely fall shortly after sunset to 32 degrees which means it won't be long before ice becomes an issue, in addition to new snow. We do think the activity will ease up some later tonight, but it is still possible to see another inch of snow overnight. Overall, I think travel tonight will become quite challenging for everyone. With everything iced over, even walking could be difficult.
The coldest part of a day is right at sunrise and the forecast is for the low temperatures to fall to around 18-22 degrees which tells me any travel tomorrow will be hazardous with ice covered roads and walkways, for much of the day as tomorrow's high is only forecasted to reach 34.  The precipitation tomorrow will be more isolated which is a small bonus.
Tomorrow night we have another system moving across that will bring more steady precipitation, not as heavy as we have seen though so overnight snow totals around another inch, and like I said, the high only near 34.  Maybe some good news, high pressure starts to build in tomorrow night, so the precipitation becomes more widely scattered and diminishing, the overnight lows still down around 20.
Wednesday we may see more sun than we have seen for a while, a mostly sunny day, the high still only make it to 37 degrees, then another chance of snow moves in again in the early morning hours, the low around 24.
After Wednesday the coldest air starts to shift eastward so daytime highs up into the mid 40s, the lows still down around freezing, and with additional systems moving through, we will see more rain, and depending on timing rain/snow, or all snow to the lower levels in the early morning hours.  The Coast Range will still be accumulating more snow.
Safety Message: With it having been a holiday weekend, you can never be too prepared. Please, if you are traveling, have your emergency kit easily accessible in your vehicle. Travel with food, water, blankets, etc in case you encounter an emergency or get stuck. Before you hit the roads, be sure to check your local forecast and road conditions. Know BEFORE you go! Those conditions can be found on www.tripcheck.com or by dialing 5-1-1.