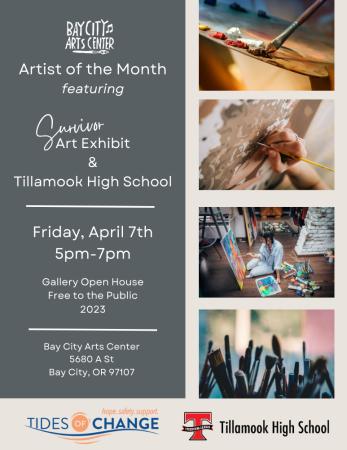 (TILLAMOOK, OR. November 4, 2020) Tillamook County was awarded approximately $841,000 of Coronavirus Aid, Relief, and Economic Security Act (CARES Act) funds to offset County expenses related to the COVID-19 pandemic emergency. CARES Act funds are being disbursed to address response measures pertaining to COVID-19 and its
economic impacts. In reviewing the COVID-19 effects on Tillamook County, the Tillamook County Board of Commissioners prioritized awarding of over half of the funds to emergency needs in our community. The Economic Development Council of Tillamook (EDC) is receiving $100,000 for grants to small businesses and $135,000 will be spent on the effort to expand distance learning broadband availability. The remainder is going to local non-profits and child-care providers.
Grants to Non-Profits
The Board has provided several grants to organizations serving some of our most vulnerable residents during the COVID-19 pandemic emergency. The funding will provide direct support to individuals through non-profit activities such as rent assistance and food programs, as well as building improvements needed for safe workspaces. The grants are listed below:
Food Roots has been awarded up to $20,000 for their new Fresh Food Delivery Project
Tides of Change has been awarded up to $6,000 for Emergency Assistance to Survivors of Domestic and Sexual Violence
Tillamook County Community Action Resource Enterprises, Inc. (CARE) has been awarded up to a $15,000 contribution toward their Building Remodel Project, to make their workspace safer for employees and clients
Tillamook YMCA has been awarded up to a $26,000 contribution toward their Children's Bathroom Improvements Project
Northwest Seniors and Disability Services has been awarded up to $10,000 for its Nutrition Program
These non-profits are an important part of our vibrant community and the grants will help them continue to serve us during and after the pandemic.
Direct Payments to Child-Care Providers During the Pandemic
With guidance from the Tillamook County Child Care Taskforce and the help of the Tillamook YMCA, $131,000 in CARES Act Funding has been allocated to childcare providers. The Taskforce has been working on a long-term plan for increasing child-care availability in Tillamook County. The County values their work and has seen a critical need to provide more childcare funding during the pandemic.