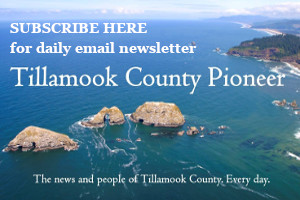 The National Weather Service in Portland has issued a Red Flag Warning for wind and low relative humidity, which is in effect until 6 PM PDT Wednesday.
* AFFECTED AREA… In Oregon, – Fire Weather Zone 602 North Oregon Coast Range. – Fire Weather Zone 603 East Slopes of the Central Oregon Coast Range.
* TIMING…Until 6 PM PDT Wednesday.
* WINDS…North winds 6 to 10 mph with gusts up to 25 mph this afternoon through much of tonight. Winds decreasing Wednesday morning, then becoming west 6 to 10 mph with gusts to 25 mph Wednesday afternoon.
* RELATIVE HUMIDITY…Minimum RH 10 to 18 percent Tuesday afternoon, then 18 to 28 percent Wednesday afternoon. Humidity recovery will be poor (35 to 45 percent) Tuesday night along and above thermal belts.
* HAINES…5 (moderate) to 6 (high).
* IMPACTS…Conditions may be favorable for rapid spread on any new or existing fires. Extreme fire behavior is possible, especially from established fires. Outdoor burning is not recommended.
* AFFECTED AREAS: NORTH OREGON COAST RANGE … EAST SLOPES OF THE CENTRAL OREGON COAST RANGE
Instructions:
A Red Flag Warning means that critical fire weather conditions are either occurring now, or will shortly. A combination of the above conditions can contribute to extreme fire behavior. Check with your local fire agency to see whether burning and/or firework restrictions are in place. Even if burning is legal, do not leave any type of fire unattended.
Alert Details
Severity: Severe – Significant threat to life or property
Urgency: Expected – Responsive action SHOULD be taken soon (within next hour)
Certainty: Likely (p > ~50%)
Category: MET: Meteorological (inc. flood)
Event Description: Red Flag Warning