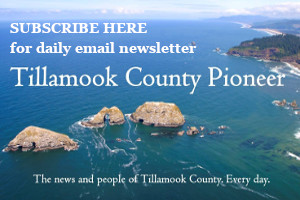 By Gordon McCraw, Tillamook County Emergency Manager
Wednesday, July 14, 2021, 08:45am
A large low pressure area continues to spin in the Gulf of Alaska that is keeping us under a westerly flow. Occasional a weak disturbance rides the flow and rotates under the low and passes near our area. These are enhancing the flow which thickens the marine clouds which in turn gives us a slight chance of light drizzle each morning when the layer is the thickest. So, today will look a lot like yesterday, a cloudy start, a slight chance of light patchy drizzle, but becoming mostly sunny by the afternoon. Winds becoming northwesterly 8-12 gusting to 20, highs today near 64. The clouds will return tonight, then thicken in the early morning hours enough that we again have a slight chance of light drizzle, light winds, and a low near 53.
Tomorrow is a repeat though the large low pressure area in the Gulf of Alaska starts to drift southeastward so the drizzle threat near sunrise could be higher than today, otherwise, we stay relatively dry, fair and mild during the day but just like the past few days, the clouds return tomorrow night giving us a slight chance of drizzle again into Friday morning.
By Friday the Gulf of Alaska low pressure area will have drifted southeast and sitting off the British Columbia coast. This will keep the drizzle threat lingering a little later in the morning as we likely don't clear as mush as in the previous days, highs still near 65, lows near 53.
It looks like a ridge of high pressure builds in from the southeast over the weekend giving us mostly sunny skies Saturday and Sunday, highs near 68, and with mostly clear nights, lows near 51. The nice weather looks to continue through Monday and Tuesday as well.