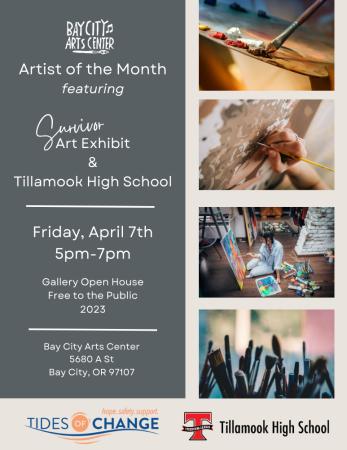 By Gordon McCraw, Tillamook County Emergency Manager
Tuesday, October 12, 2021, 9:45am
Weather
A cold and frosty start with many areas in the low 30s this morning. We also have some mid and high clouds moving in associated with an approaching cold front.  This will bring some mainly light rain starting late this afternoon or early evening. The front will finally push thru later tonight, and we then transition over to scattered showers. Winds today and tonight southeasterly 4-8 until the front passes then becoming westerly. Highs today near 55, tonight's lows near 40.
The showers become more widely scattered tomorrow but then we also have another cold front expected to bring in more light rain late tomorrow night starting around midnight, winds again start out westerly 5-10 but become more southerly with the front.  Highs near 56, lows near 44.
We see more light rain Thursday that again transitions to scattered showers Thursday afternoon, becoming more widely scattered Thursday night, highs near 59, lows near 44.
Friday, we have a westerly flow developing over the region and it appears we then get stuck under a pretty much stationary front though the models aren't real clear on this just yet. The rain associated with the also appears light in nature.  The models show another front Saturday, but they don't agree in the timing, some bring it through early Saturday, others not until Saturday night.  This would mean Sunday would likely be a day of scattered showers.  Weekend highs near 60, weekend lows in the low 40s.
ODF Slash Burn Information
Oregon Department of Forestry is reporting that there are a number of slash burns scheduled for today.  Three are planned for areas between 7-10 miles northeast of Tillamook and three more scheduled for 7-13 miles southeast of Tillamook.
COVID Update Case counts
14 new cases this past weekend, there were 7 the weekend prior
26 cases total last week, 24 the week prior
55 cases for two-week total, 74 prior weeks and 134 prior to that.
Breakthrough cases in Oregon 24.4%
Breakthrough cases in Tillamook 25.8%
Deaths – 26
Positivity rate 5.7%
Tillamook County currently has 6 Outbreaks, 9 more pending investigation for a total of 15 being monitored.