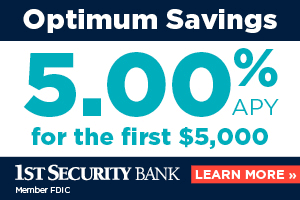 By Gordon McCraw, Tillamook County Emergency Manager Interim
Tuesday, October 19

, 2021, 12:20pm
Weather
We see some approaching clouds ahead of a system that will bring rain into the area later tonight.  So today we see mostly cloudy skies with winds becoming southeasterly 5-10, the high near 64. Becoming cloudy and rainy late tonight, and it could be moderate, occasionally heavy at times but fortunately, it will be fast moving so rainfall totals should be that impressive. There is also a chance, says some of the models, that we could see gust winds in the early morning hours with some models suggesting winds at the beaches gusting to near 45, maybe even higher north of Tillamook, otherwise winds becoming southerly 5-10 tonight, the low near 48. Something to watch!
We transition from rain to rainshowers later tomorrow morning, winds southerly 10-15 gusting to 25, the high near 59, down to a 50% chance of showers still tomorrow night under mostly cloudy skies, winds southeasterly 5-10, lows near 48.
Thursday, we have another front moving in, bringing rain into the area in the afternoon with breezy southerly winds 10-15 gusting to 25, the highs near 59.  Rain still Thursday night, and it could be heavy at times, lows near 48. With all the activity coming thru the Pacific, increasing seas causing sneaker waves is an increasing concern by this time also.
We transition to scattered showers Friday, but we have yet another storm system approaching that pushes in more rain Friday night with another good shot of rain and some of the models are again playing with potential high winds, but the changing models give us little confidence the winds will develop.
The long range models also offer a variety of weekend outcomes with a small percentage offering a strong wind event.  We will watch the models, but we see a better chance of rain during the day Saturday with scattered showers that night into Sunday, rain again Sunday night then scattered showers again Monday.  Highs over the weekend near 57, lows near 44.
A rough look at rainfall totals suggests from tomorrow thru Sunday we could see between 4-6" of rain, luckily spread out over a 5-day period with some breaks in between.  I have looked at the river forecasts and they do rise several feet by the weekend, but not alarmingly so. We are also not into a period of high astronomical tides.  All good things in our favor.
COVID Numbers Update from today's Community Call
Period             Dates               Total                Last period
Weekend         10/15-10/17    16                      14
7-Day               10/10-10/16    36                    26
14-Day             10/3-10/16      61                     55
Month to date (10/1 – 10/17) cases – 69
State Breakthrough –  27.2
Tillamook Breakthrough – 36.67
Positivity Rate 7%
Deaths – 29 (25 not vaccinated, 1 Unknown status, 3 vaccinated)