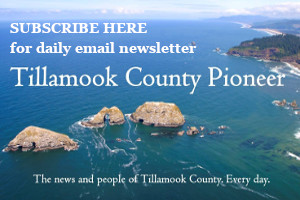 By Gordon McCraw, Tillamook County Interim Emergency Manager
Wednesday, October 6, 2021, 10:00am
Weather
The upper level trough of low pressure continues to give us some scattered showers that are moving into the coast this morning and the scattered activity will continue into the afternoon then become more widely scattered under partly sunny skies as the trough continues to drift east. There is also a slight chance of thunderstorms this morning, especially in the coastal areas, especially in the northern zones. Winds today becoming westerly 4-8, the high near 56. Conditions continue to improve tonight with mostly clear skies, and with light winds, patchy fog is possible, the low drops to near 41.
It looks like we will be between systems tomorrow, so we see sunny but cool skies after any fog clears, winds becoming northerly 5-10, highs near 57. We will see some cloudiness tomorrow night along with some patchy fog with the abundant moisture around, lows near 42.
Friday on continues to look active with a weaker system bringing a chance of rain as it passes primarily to the north Friday into Saturday, then a stronger system that likely will bring rain Saturday night thru Sunday with an even stronger front expected Sunday into Monday. Looking at the river forecasts show, while flow rates do increase some, it does not appear to be significant. Temperatures also lower with the systems with highs in the mid 50s by Monday, lows in the upper 30s.