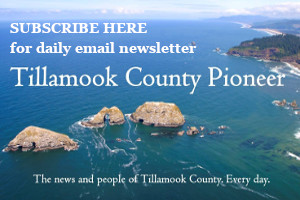 By Gordon McCraw, Tillamook County Emergency Manager
Wednesday, November 10, 2021, 09:30am
Weather
A look at the satellite picture shows us a couple of things, one, it is quite active out there in the North Pacific, and two, you can see the Atmospheric River taking shape, aimed towards the Pacific Northwest. The latest models also continue to show a strong warm front lifting northward into our area, then stalling tonight, with the heaviest rainfall area pointed at Washington down to extreme northwest Oregon. There is even a potential for thunderstorms in the early morning hours tonight. This could give us between 1" and 2" of rain during this period.  There would also be some gusty southeasterly winds developing 10-15 gusting to 20, the temperatures bouncing between 50 and 55 because of the front.
Unfortunately, the Veteran's Day weather looks bad also thanks to the developing moderate atmospheric river. We see more rain that could be heavy at times, with possible morning thunderstorms tomorrow with southerly winds 8-12.  The front will be drifting southward as a cold front by tomorrow night, again with a chance of some thunderstorms that could produce periods of additional heavy rainfall to some isolated areas.  Rainfall totals for Thursday are around 2-4" of rain.
Friday the front continues to slowly slide south and we see more rain, heavy at times, that could give us an additional 1-2" of rain before starting to ease.  So, if my math is correct, over this three-day event, we could see between 4-8" of rain, likely in the Coast Range and 2-5" along the coast.
The weekend's forecast continues to be a challenge. It was 50/50 for either another weak atmospheric river event that slides to our north, or the ridge build stronger and gives us dryer weather. Saturday looks like it leans more towards a stronger ridge, then Sunday is back to a 50/50 in either direction.  Monday and Tuesday are looking rainy again though.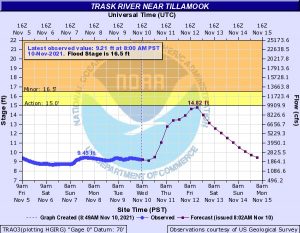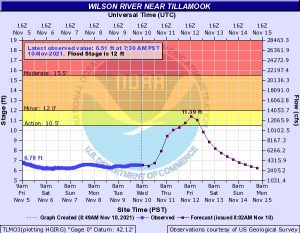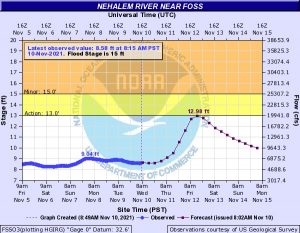 So, what does all this mean, hydrologically, for our rivers.  The current modeling suggests the rivers climb up into or near Action Stage Friday morning.  If we hit the higher rainfall rates for too long, we could reach bankfull or even see some nuisance flooding that could close the North Main area and Alderbrook Rd near Possitti Rd in Tillamook.  With the heavy rain we usually see the south end of Miami Rd closed also. During these nuisance type floods we see some flooding in the usual areas near Nestucca and Nehalem Rivers as well. Another factor in the flooding picture is the high tide periods.  Tomorrow's high tides, using Garibaldi tides, are in the low to mid 7' range.  The times are, Thursday – 06:36am, 05:48pm; Friday – 07:41am, 07:06pm; Saturday – 08:38am, 08:23pm.  Anytime we have the heavy rains there is also a potential for Urban and Small Stream Flooding.  The National Weather Service slogan is Turn Around, Don't Drown, the water could be deeper than you think.  The final hazard is landslides.  We frequently see these also during heavy rain periods.  Drive with extreme caution, especially in those known slide areas.
Advisory: Flood Watch – Thursday afternoon 11/11 until 06:00AM Saturday 11/13
* WHAT…Flooding caused by excessive rainfall is possible.
* WHERE…Portions of northwest Oregon and southwest Washington, including the following areas, in northwest Oregon, Central Coast Range of Western Oregon, Central Columbia River Gorge, Central Oregon Coast, Central Willamette Valley, Coast Range of Northwest Oregon, Greater Portland Metro Area, Lower Columbia, North Oregon Coast, Northern Oregon Cascade Foothills, Northern Oregon Cascades, Upper Hood River Valley and Western Columbia River Gorge. In southwest Washington, Central Columbia River Gorge, Greater Vancouver Area, I-5 Corridor in Cowlitz County, South Washington Cascade Foothills, South Washington Cascades, South Washington Coast, Western Columbia River Gorge and Willapa Hills.
* WHEN…From Thursday afternoon Nov. 11th through late Friday night, Nov. 12th.
* IMPACTS…Excessive runoff may result in flooding of rivers, creeks, streams, and other low-lying and flood-prone locations. Extensive street flooding and flooding of creeks and rivers are possible.
* ADDITIONAL DETAILS… – Heavy rain may result in landslides in areas of steep terrain, as well as debris flows in and near burned areas from recent wildfires. – http://www.weather.gov/safety/flood
* AFFECTED AREAS: NORTH OREGON COAST … CENTRAL OREGON COAST … COAST RANGE OF NORTHWEST OREGON … CENTRAL COAST RANGE OF WESTERN OREGON … LOWER COLUMBIA … GREATER PORTLAND METRO AREA … CENTRAL WILLAMETTE VALLEY … NORTHERN OREGON CASCADE FOOTHILLS … NORTHERN OREGON CASCADES … UPPER HOOD RIVER VALLEY … WESTERN COLUMBIA RIVER GORGE … CENTRAL COLUMBIA RIVER GORGE … SOUTH WASHINGTON CASCADES … WILLAPA HILLS … SOUTH WASHINGTON COAST … LOWER COLUMBIA AND I – 5 CORRIDOR IN COWLITZ COUNTY … GREATER VANCOUVER AREA … SOUTH WASHINGTON CASCADE FOOTHILLS … WESTERN COLUMBIA RIVER GORGE … CENTRAL COLUMBIA RIVER GORGE
Instructions: You should monitor later forecasts and be alert for possible Flood Warnings. Those living in areas prone to flooding should be prepared to take action should flooding develop.
If you live in a flood prone area, make plans now on what you will do if the flooding gets worse.  If you have a business in the flood prone area like the North Main areas.  Again, make plans now on how you will take immediate action should the flooding exceed forecasted levels. Keep a close eye on and monitor the forecasts (www.weather.gov/portland) including the river forecasts (https://water.weather.gov/ahps2/index.php?wfo=pqr) over the next few days as these forecasts could change quickly as things develop. We will hope that if things do change, it will be for the better, but if it gets worse, it is best to have a plan already in place to deal with it.
Finally, I will try to keep my Facebook Page, "Gordon's Weather Center" up to date and you are welcome to use it as a source of information. The National Weather Service monitors this and they and I welcome pictures or other updates that would help us in the notifications and forecasts.  I will also send out updated information here.  You may offer the link to your friends so they can sign up and monitor updates for this also https://www.co.tillamook.or.us/newsletter/subscriptions