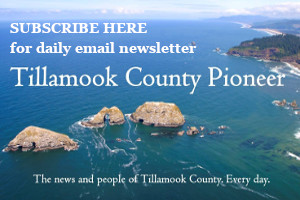 by Gordon McCraw, Tillamook County Emergency Manager
Tuesday, November 16, 2021, 10:00am
Weather
After a very active week, high pressure is building in giving us improving conditions with partly sunny skies today, a few light spotty showers around this morning, light winds, the high near 50.  The snow level is down around 2500' but lifting to 3000' so the higher Coast Range mountains have seen a dusting.  Conditions continue to improve tonight leaving partly cloudy skies, the winds becoming easterly 4-8, lows down near 34 which could give some areas thicker morning frost so be careful and protect the plants.
Tomorrow looks partly sunny with east winds 5-10, the high near 53.  The winds die off tomorrow night and we see increasing clouds ahead of the next rainmaker, lows near 39.
Thursday, we have a low pressure area rapidly developing in the eastern Pacific moving toward the region, the only problem is, the models are mixed on strength and movement. The bottom line though, rain will move into the area Thursday, luckily with light winds, the high near 51.  The winds and the rain may change as the low's movement and track are still somewhat in the air. The low temperature that night around 43.
Friday morning we transition to scattered showers and even those diminish by the afternoon as high pressure returns, leaving partly sunny skies, the high near 53, lows near 39.  Saturday looks nice, partly cloudy, the high near 53, the low near 38.
The models suggest a weak cold front will bring in some clouds Sunday then a chance of rain Sunday night with rain likely by Monday, highs near 55, lows near 40.
Community Leadership Call –  COVID numbers update
The Oregon Health tracking system was down over part of the weekend so the numbers may change once the system catches up. For now, the numbers look like this:
The weekend (11/12-11/14) – 14 new cases
7-day total (11/7-11/13) – 43 new cases
14-day total (10/31-11/13) – 105 new cases
For November – 109 new cases
Breakthrough cases (12/31-11/6) – 71% unvaccinated, 19% Breakthrough
Deaths – 42 (35 unvax'ed, 1 no record, 6 full vax'ed)
Hospitalizations to date – 91
Positivity Rate 8.2% (last week 9.7%)
Outbreaks – 1 with 12 pending investigation, total is 13