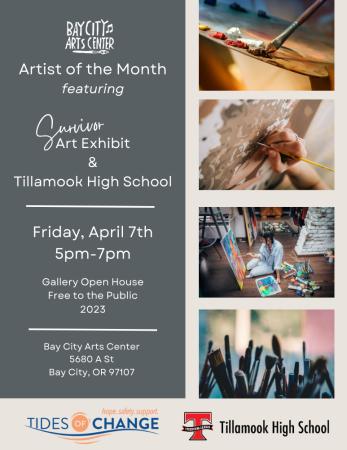 By Gordon McCraw, Tillamook County Emergency Manager
Monday, December 13, 2021, 10:00am
Weather
The cold trough of low pressure that has been causing all the showers the last couple days remains just off the coast and continues to generate showers across the Pacific northwest. With the southerly winds aloft the snow level should also be lifting some, to around 2000' by around noon. With daytime heating there is also a slight chance of an afternoon thunderstorm. Surface winds today northeasterly 5-10, today's high near 44.
The trough drifts inland tonight so look for increasing rain and rain showers along with cooling temperatures that pull down the snow level to around 1000'. During the heavier showers, there could be a snow or rain/snow mix that melts quickly after the shower stops. Winds tonight southerly 5-10 and with the forecasted low down near 33, there is a chance of lower level snow in the early morning hours approaching sunrise tomorrow, however, there should be little to no snow accumulation at the lower levels.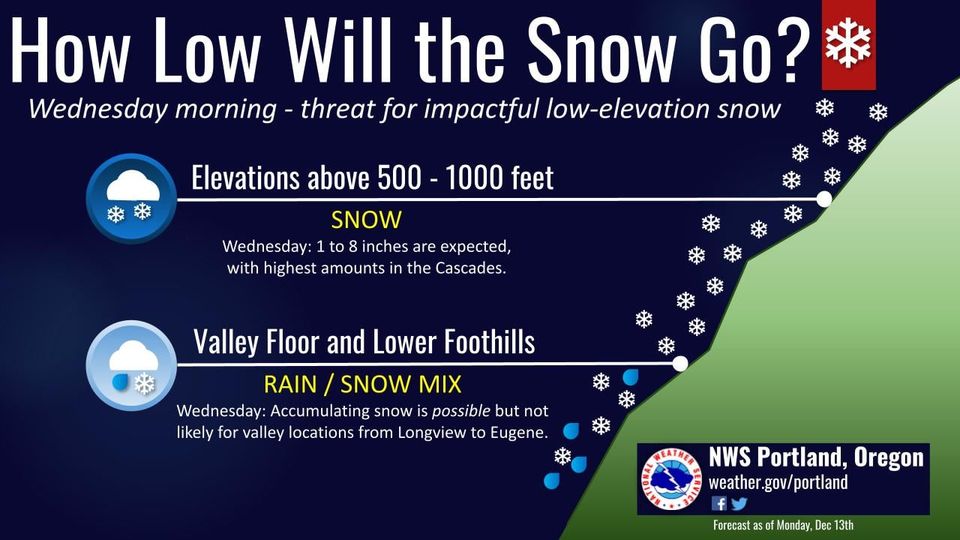 Again, tomorrow morning we see the chance of rain and/or snow until the temperature climbs after sunrise, and back comes the slight chance of an afternoon thunderstorm, the snow level climbs to 900' by noon and continues to climb to near 1500 later in the afternoon. Look for southerly winds 5-10, tomorrow's high near 45. Tomorrow night there is still a chance of showers and possible thunderstorms until around midnight, then just rainy thru Wednesday morning, the snow level drops to near 1300' overnight, lows near 37.
Wednesday, we have a low pressure area dropping down towards the area from the northwest that will keep us cool and wet, the snow level does climb to near 2400' though. We can expect rainy conditions into the evening hours then more scattered showers with that chance of thunderstorms thru Wednesday night. High temperatures Wednesday up near 46, overnight lows near 37.
Thursday it looks like we have a weak ridge of high pressure building that brings partly sunny skies with fewer showers around the area, the snow level 2500-3000', afternoon highs near 48, widely scattered showers that night, lows near 33 so watch for the patchy black ice.
It looks like another trough of low pressure will be dropping down into the area from the Gulf of Alaska Friday so the rain returns Friday evening thru Saturday with highs near 48, lows near 37. Some of the models suggest heavy rain while most just show periods of moderate rain. The snow level appears to be above 3000'. We transition back to scattered showers Saturday night into Sunday, the snow level around 2700'.