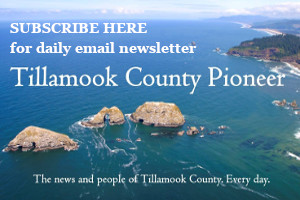 By Gordon McCraw, Tillamook County Emergency Manager
Tuesday, December 14, 2021, 11:00am
Weather
A chilly night where most folks saw the overnight low temperatures dropping to or below freezing and with scattered showers moving northeastward thru the area, many even saw low level snow. The temperature is slowly rising with the current snow level around 1000' but will continue to climb with daytime heating to around 1800' in the afternoon. The official forecast is for partly sunny skies, continued scattered showers with a slight chance of thunderstorms, light winds, highs near 44. There is a Winter Weather Advisory for the Coast Range for the possibility of another 1-3" of snow thru 4pm this evening, then another one from 4am tomorrow thru 4am Thursday for an additional 4-6" of snow in the Coast Range mountains above around 1500'.
The showers become more scattered tonight, but we have another system dropping into the area from the Gulf of Alaska that will push in another round of rain and gusty winds starting later tonight around midnight, winds becoming southeasterly 8-12 gusting to 20, lows near 36, the snow level down close to the top of the passes.
More rain tomorrow, December 15th, winds southeasterly 14-18 gusting to 30, highs near 46, the snow level rising to around 2500' in the afternoon. As usual, the beaches could see winds 45-55. Around sunset we transition over to scattered showers, again with that chance of thunderstorms, the winds decreasing except gusty near the showers as they move through. The shower activity diminishes overnight tomorrow with a weak ridge of high pressure moving across, east winds 5-10 gusting to 18, lows near 39.
Mostly cloudy Thursday, the shower activity becomes more widely scattered by the afternoon, light northerly winds, highs near 48, a slight chance of showers overnight Thursday, calm winds, the low near 32.
We start out relatively dry Friday though we do see a chance of showers later Friday morning but then another low drops southward from the Gulf of Alaska that pushes in some rain Friday night, fortunately with relative higher snow levels (above 3000'), highs Friday near 48, lows near 39. Saturday looks rainy and breezy, the high near 50. Fortunately, this system will be faster moving as it will bring moderate rain to the area before transitioning back to scattered showers later Saturday night, lows near 35.
We see more showers Sunday, the high near 47 and we still see a chance of showers Sunday night into Monday, the overnight low Sunday drops down close to 32 again, Monday's high near 46, the snow level up near 2300'.
Tillamook County Community Call COVID-19 Update
Weekend Case Count (12/10-12/12 – 28
7-Day Case County (12/5-12/11) – 60
14-Day Case County (12/5-12/11) – 95
December to date – 88
Total – 2,259
Deaths – 47 (38 unvaccinated, 1-unknown, 8 vaccinated)
Hospitalizations to date – 102
Positivity Rate (12/5-12/11) – 10.8%, previous period was 7%
Outbreaks – 2 confirmed, 15 pending investigations, total of 17 under investigation.
Active Breakthroughs (11/28-12/4) – 69.4% Not Vaccinated, 30.6% Breakthroughs.
Yesterday it was announced three cases of the variant Omicron were detected in Multnomah and Washington counties.