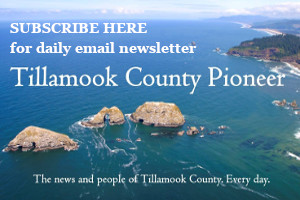 By Gordon McCraw, Tillamook County Emergency Manager
Thursday, December 16, 2021, 3:00pm
Weather
High pressure is building over our area as a disturbance off the central Oregon coast continues to move southeastward causing a few scattered showers well south of our area. This will leave us with a partly sunny and mostly dry day with light winds, the high near 48. We see mostly cloudy skies tonight with light winds, maybe some patchy fog, lows near 37.
Tomorrow starts out dry, we will see some clouds moving in by the afternoon ahead of the next approaching system that brings an increasing chance of rain tomorrow evening with rain likely by tomorrow night, east winds 4-8, lows near 41, the snow level around 2900'.
The moist front moves in Saturday but the models suggest the hose or area of maximum rainfall will be aimed up into northern Washington so we should see predominately moderate rain with the system which decreases the previous hydrological concerns. Rainfall totals here in the 1-2" range. Winds becoming southerly 10-15 gusting to 25, highs near 48, lows near 39. The front appears to stall into Sunday, but the focus of the heavier rain then shifts to our south, but Sunday still looks rainy for us, the snow level lifting to near 3500', highs near 48, lows near 39.
The pattern remains active next week with a low pressure meandering off the coast so Monday looks rainy then it appears another front swings in Tuesday with highs near 50, lows that night drop to near 36, the high Wednesday, still with the rain, back down to 47, the lows around 35.