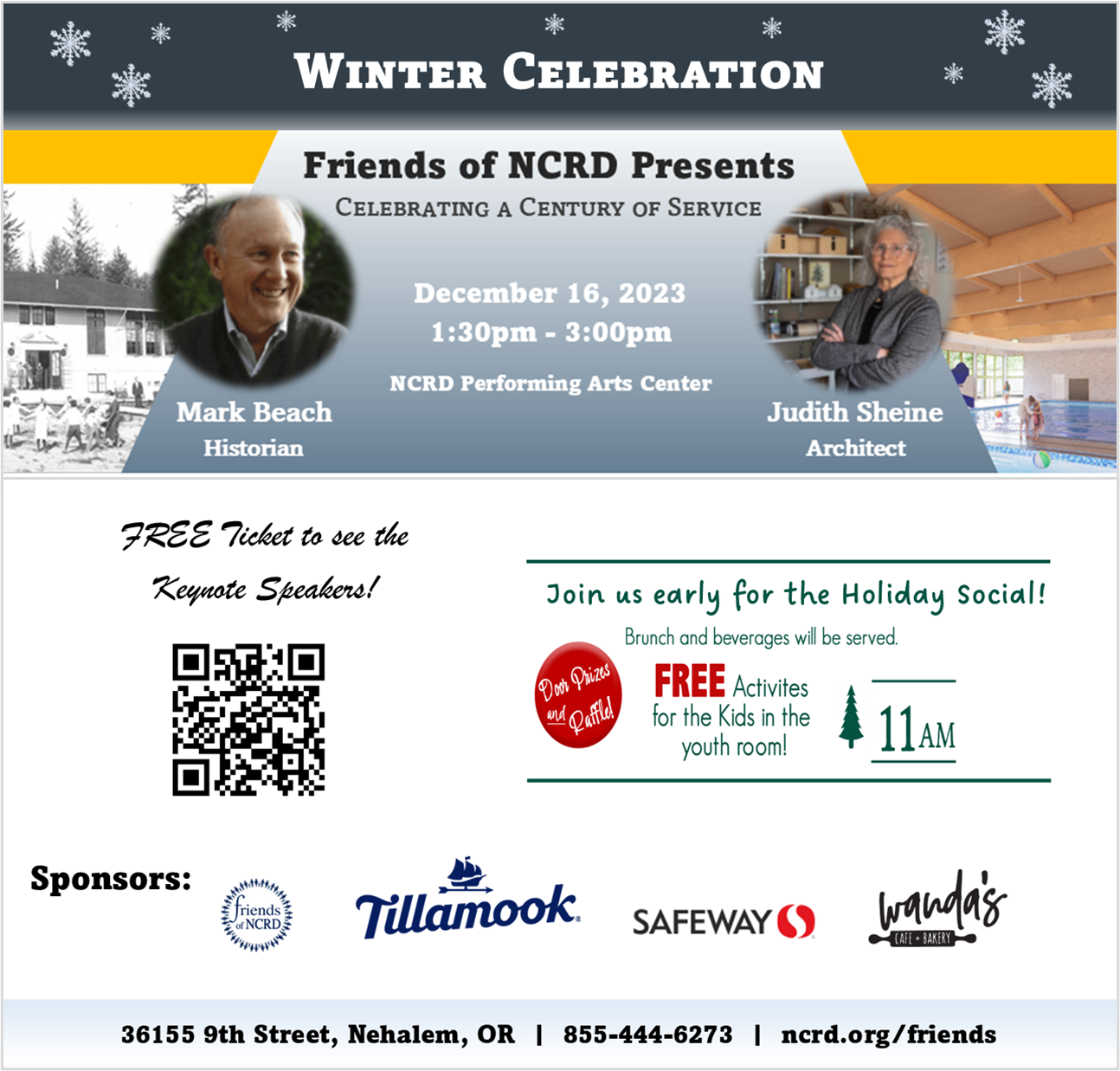 By Gordon McCraw, Tillamook County Emergency Management
Tuesday, December 7, 2021, 09:00am (A day that will live in infamy, Pearl Harbor Day!)
Weather
A cloudy, misty, drizzly morning as warmer moist air moves over the colder surface air which squeezes out the moisture. This will continue with even a brief period or two of spotty light rain. Winds will become southerly 5-10 today, the afternoon high near 55. The patchy mist and drizzle will return tonight but we also have another weak cold front approaching that will push in more rain after midnight, winds becoming southwesterly 8-12 gusting to 25, lows tonight near 42.
Another stronger cold front arrives tomorrow and brings some showers and lowers the snow levels to around 2500'-3000'. There is also a chance of thunderstorms later tomorrow morning and during any showers the snow level could fall low enough that we could see a rain/snow mix in the passes. Winds tomorrow becoming northwesterly 10-15 gusting to 30, the high near 50. The thunderstorm threat continues until later tomorrow night, but the showers threat remains thru Friday, highs near 48, lows near 40.
The next strong weather system will give us some potential big impact starting Friday. We will be seeing approaching rain later Friday night along with increasing gusty winds. By Saturday the rain could be heavy at times and the winds increase, becoming even stronger with Winds Warning possible, especially at the coast and possibly inland as well. This potentially will also push the snow levels down to or near the pass levels late Saturday into Sunday morning. A couple of the models slow the front as it moves across the area which could cause some Hydrological concern, which are low now. At this point this is just something to watch. The bottom line, it will be a wet weekend with lows falling into the mid to upper 30s by Saturday night and highs only in the upper 40s Sunday and Monday. It does look like the snow level will be climbing by Monday to near 3000' This does mean that the higher Coast Range mountains will be seeing accumulating snow and the Cascades will be seeing Warning Level snow.
Community Call COVID Update
The weekend case count (12/3-12/5) – 18
7-Day Case County (11/28-12/4) – 35
14-Day Case County (11/21-12/4) – 63
November Total – 168
December to date – 27
Tillamook Total Count – 2,198
Deaths – 46 (37 unvaccinated, 1 no record, 8 fully vaccinated)
Hospitalizations to date – 101
Positivity Rate – 7.0% (11/28-12/4, last report was 7.7%)
Outbreaks – 2 confirmed,11 pending investigation for a total of 13 under investigation
Breakthrough Date – Statewide (11/21-11/27) 71.3% Unvaccinated, 28.7 Breakthrough
TESTING:
COVID-19 testing remains available from our health center at our 8th street acute care clinic. Hours this week: Monday – Friday 1pm – 5pm. Appointments are required, please call: 503-842-3900.
COVID-19 testing is also available at: Adventist Health Urgent Care – Tillamook & Rinehart Clinic
Tillamook County Community Health Center Walk-In Vaccine Clinic at the Fairgrounds – Convention Center
a. For the month of Dec: Tuesday/Thursday 8:30am – 3pm and Wednesday from 1pm – 5pm by walk-in only. Closed for holiday observance: Weds 12/22 to Fri 12/24/21.
b. COVID-19 1st, 2nd, 3rd and booster doses, as well as flu and pneumonia vaccines all available.
c. Special event: Friday December 10th, 2nd pop-up vaccine clinic at Nestucca K-8 school 3pm -7pm. COVID-19 1st, 2nd, 3rd and booster doses, as well as flu and pneumonia vaccines all available.
d. Special event: Saturday December 11th, COVID-19 vaccines, and flu shots at Tillamook Air Museum Holiday Event from 10am – 2pm.
(2) Adventist Health:
Tillamook @ Occupational Medicine office
Pacific City on Wednesdays
(3) Rinehart Clinic in North County
(4) Local Pharmacies – Safeway, Fred Meyer, and Tillamook Pharmacy
(5) Statewide Pharmacies – check websites to schedule appointments.
Gordon McCraw