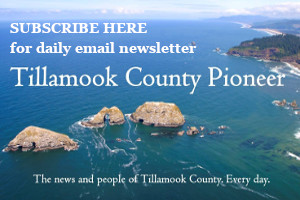 By Gordon McCraw, Tillamook County Emergency Manager
Thursday, September 23, 2021, 10:00am
Weather
Another mild day in store with high pressure building just to the west today.  The clouds and patchy morning fog have already burned off in most areas leaving a mostly sunny day.  Winds this afternoon northwesterly 4-8, the high near 69.  We should see mostly clear skies tonight with the winds diminishing, lows near 49.
Tomorrow the ridge will start to move east and moves across our area giving us sunny skies, light winds, and pushing the afternoon high temperatures up into the upper 70s to near 80 here, even warmer over in the valley.
On Saturday the ridge weakens as a trough of low pressure moves towards the area.  We will still enjoy the mostly sunny skies, the winds becoming westerly 4-8, the afternoon high only up to near 67. Saturday night we see increasing cloudiness then a slight chance of rain late, lows near 48.
After this we see a series of systems that will push in a front that brings rain Sunday and Monday.  The models agree on the front but differ on the exact timing and strength.  Some bring it through Sunday afternoon while others push it through late Sunday into early Monday.  Again, there is variation on rainfall totals with the system also.  For now, it look like we could see 1 to 2 inches of rain over that period.
We can expect the usual post-frontal scattered showers behind the front Tuesday into Wednesday, highs in the low 60s, lows in the mid 40s.
September 22, 2021, Oregon reports 2,312 new confirmed and presumptive COVID-19 cases, 26 new deaths
PORTLAND, Ore. — There are 26 new COVID-19 related deaths in Oregon, raising the state's death toll to 3,649 the Oregon Health Authority reported at 12:01 a.m. today.
Oregon Health Authority reported 2,312 new confirmed and presumptive cases of COVID-19 as of 12:01 a.m. today bringing the state total to 317,107.
OHA updates reporting for schools in weekly Outbreak Report
Starting today, the weekly Outbreak Report is updating how school outbreaks will be reported.
The Outbreak Report will continue to report the number of cases in school by student and staff or volunteer status. Active and resolved outbreaks will now include all cases linked to the outbreak and will no longer differentiate cases among students and staff cases.
Outbreaks in K-12 schools are defined as having two or more cases identified, where there is evidence of transmission, at school. Outbreaks may include cases who were not at school but are close contacts of those exposed at school. This provides a more accurate picture of the scale of K-12 related outbreaks and how they may link to other cases in the community.
Schools should continue to notify their local public health authority of all positive cases identified among students and staff, including those who are reporting a positive at-home COVID-19 test.
COVID-19 hospitalizations
The number of hospitalized patients with COVID-19 across Oregon is 939, which is five fewer than yesterday. There are 270 COVID-19 patients in intensive care unit (ICU) beds, which is six more than yesterday.
9/22/2021 Available Beds (and Percentage of Staffed Beds Available)
Statewide                                  State      Region 1  Region 2  Region 3  Region 5  Region 6  Region 7  Region 9
Adult ICU beds available     39 (6%)   22 (6%)      1 (1%)         7 (16%)      7 (12%)      0 (0%)      2 (4%)     0 (0%)
Adult non-ICU beds              315 (7%)   84 (4%)     20 (3%)    78 (13%)    38 (9%)     3 (6%)     45 (11%)    47 (41%)
There are 39 available adult ICU beds out of 649 total (6% availability) and 315 available adult non-ICU beds out of 4,272 (7% availability).
The total number of patients in hospital beds may fluctuate between report times. The numbers do not reflect admissions per day, nor the length of hospital stay. Staffing limitations are not captured in this data and may further limit bed capacity.
SBA Economic Injury Disaster Loans Available to Oregon Small Businesses
SACRAMENTO, Calif. – Small nonfarm businesses in seven Oregon counties are now eligible to apply for low‑interest federal disaster loans from the U.S. Small Business Administration, announced Director Tanya N. Garfield of SBA's Disaster Field Operations Center-West. These loans offset economic losses because of reduced revenues caused by drought in the following primary county that began July 27, 2021.
Primary County:  Tillamook;
Neighboring counties:  Clatsop, Columbia, Lincoln, Polk, Washington and Yamhill.
"SBA eligibility covers both the economic impacts on businesses dependent on farmers and ranchers that have suffered agricultural production losses caused by the disaster and businesses directly impacted by the disaster," Garfield said.
Small nonfarm businesses, small agricultural cooperatives, small businesses engaged in aquaculture and most private nonprofit organizations of any size may qualify for Economic Injury Disaster Loans of up to $2 million to help meet financial obligations and operating expenses which could have been met had the disaster not occurred.
"Eligibility for these loans is based on the financial impact of the disaster only and not on any actual property damage. These loans have an interest rate of 2.855 percent for businesses and 2 percent for private nonprofit organizations, a maximum term of 30 years, and are available to small businesses and most private nonprofits without the financial ability to offset the adverse impact without hardship," Garfield said.
By law, SBA makes Economic Injury Disaster Loans available when the U.S. Secretary of Agriculture designates an agricultural disaster. The Secretary declared this disaster on Sept. 20, 2021.
Businesses primarily engaged in farming or ranching are not eligible for SBA disaster assistance. Agricultural enterprises should contact the Farm Services Agency about the U.S. Department of Agriculture assistance made available by the Secretary's declaration. However, nurseries are eligible for SBA disaster assistance in drought disasters.
Applicants may apply online, receive additional disaster assistance information and download applications at https://disasterloanassistance.sba.gov/. Applicants may also call SBA's Customer Service Center at (800) 659-2955 or email disastercustomerservice@sba.gov for more information on SBA disaster assistance. Individuals who are deaf or hard‑of‑hearing may call (800) 877-8339. Completed applications should be mailed to U.S. Small Business Administration, Processing and Disbursement Center, 14925 Kingsport Road, Fort Worth, TX  76155.
The deadline to apply for economic injury is May 20, 2022.