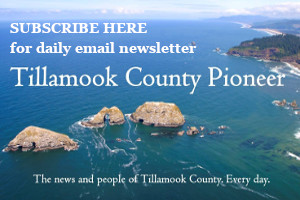 By Gordon McCraw, Tillamook County Emergency Manager
10:20am
Monday's Weather: The ridge of high pressure continues to dominate the weather, giving us an onshore flow that pushes in the marine clouds each night but burning back each afternoon. This means no real change in the forecast. Cloudy this morning but becoming mostly sunny by the afternoon, winds becoming northwesterly 5-10 gusting to 20, highs near 67, then increasing clouds again tonight with light winds, patchy fog possible, lows near 53.
The satellite picture continues to show the smoke from the fires drifting north and east. the Bootleg Fire in Klamath continues to grow and now stands at over 150,000 acres. This has been declared the first Mega Fire of the season which is threatening many campgrounds and historic sites to the east of the fire. A Type 1 Incident Management Team has been activated as well as the State's Emergency Coordination Center. There were also several other fires that started over the weekend. Be careful and follow all rules and recommendations wherever you are!