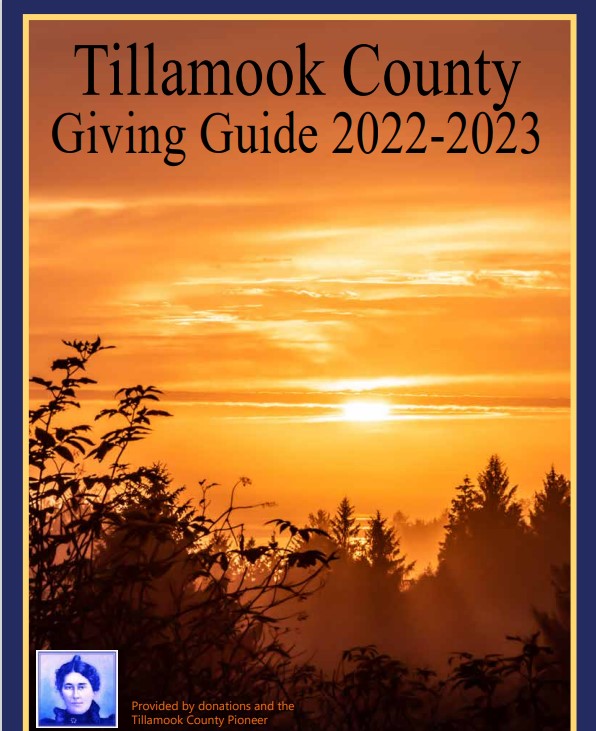 By Gordon McCraw, Tillamook County Emergency Management
Thursday, November 11, 2021, 9:15am
Weather
The warm front, which is hard to discern, seems to be relatively stationary somewhere between northern Oregon and Washington.  The main area of precipitation overnight seems to have been across central Oregon with areas like Depot Bay eastward reporting over 3" of rain in the last 24 hrs. Up towards Tillamook I see totals around 1 ¾" and up towards Astoria stations are reporting less than an inch. Looking at the satellite picture confirms round two is developing offshore with an impressive moisture plume running from northern Washington southwestward to well off the northern California coast.
So, the front will drift northward a little more today into Washington later this morning which will ease the rain some in our area into the afternoon. Later this afternoon or evening thru early tomorrow the front will then begin to move southward, pulling the heavy moisture south thru the area. This will bring an additional 2-5" of rain thru the area into Friday morning causing the rivers to sharply increase flow rates.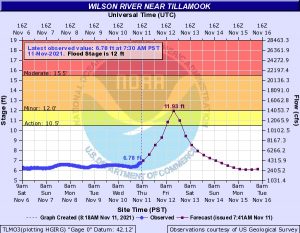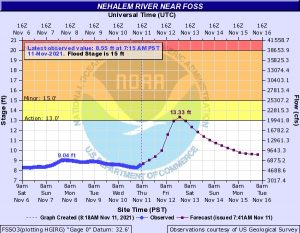 Rivers, such as the Wilson River, could reach bankfull or even into minor flood stage briefly by tomorrow afternoon.  The current forecast for the Wilson is cresting Friday afternoon at 11.93', Flood Stage is 12'.  As you can see, this is very close to flood stage and if it increases slightly and exceeds flood, we could see flooding mainly to the low lying dairy and pastures north and east of Tillamook, especially during high tide periods.  High tides Friday are at 7:41am and 8:23pm.  The Trask River forecast crests Friday at 13.87', Flood Level is 15'.  The Nehalem River reaches Action Sage Friday, cresting at 13.33', flood stage is 15'.  Nestucca River stays well below even Action Stage.  The above levels are from the current forecast issued at 8:34am this morning, and as is always the case, subject to change, for the better, or worse.  If you live in or have a business in the flood prone areas, you should monitor the forecasts closely to ensure you do not need to initiate your Action Plan.
The official forecast reads, cloudy and rainy today, still with that chance of thunderstorms though we could see a decrease in rainfall rates for a while later this morning into the early afternoon.  The rain will increase later this afternoon, becoming moderate, occasionally heavy rain with the chance of thunderstorms thru tonight into tomorrow morning.  Winds today southerly 8-12, highs near 61, lows near 54.
The rain rates decrease later tomorrow morning so the flooding concerns will be limited to the increases caused during the heavy rains this evening into early tomorrow morning. The rain chance continues to decease Friday night into Saturday (40%) as weak high pressure builds into the area.
Sunday we could see more rain from the tail end of a warm front passing to our north then rain associated with a cold front moves across the area Sunday night thru Monday.  By Tuesday we see showers and much cooler weather with highs in the low 50s and lows down to or even below 40.