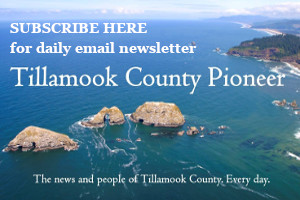 By Gordon McCraw, Tillamook County Emergency Manager
Wednesday, November 3, 2021, 10:00am
Weather
A calm day of sorts today with some clouds and a chance of rain this afternoon, winds easterly 5-10, the high near 63. Tonight, another strong jet stream interacts with the area of disturbed weather to cause rapid development of a storm system that will move northeastward toward Vancouver Island tonight. We will see an area of high pressure building in behind the low pressure area, causing widespread winds conditions across the area tomorrow. The rain, that will be moderate, possibly heavy at times tonight, turns to rainshowers after midnight, and we have a chance of thunderstorms in the early morning hours, winds southeasterly 5-10, lows near 52. The rapid movement of the system helps to keep hydrological concerns lower, rainfall totals will likely be 1-2" with some isolated areas possibly seeing 3".
More rain tomorrow until the afternoon when we have another chance of scattered showers, winds are the big news though with winds at the coast increasing in the early morning hours and persisting thru tomorrow evening. We could see winds becoming southerly 15-25 gusting to 40 in town, 25-35 gusting to 50 in the coastal communities, and 30-40 gusting to 60 along the beaches. The winds start to ease tomorrow night, becoming southerly 10-15 gusting to 25, still with rain and rainshowers, highs near 55, lows near 45.
After this the active weather continues with another front Friday, then showers Saturday and Sunday before the next system brings more rain with breezy again Monday into Tuesday, highs near 53, lows near 40.