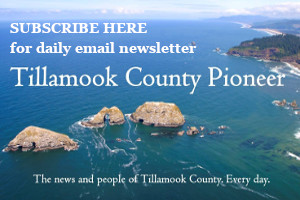 By Gordon McCraw, Tillamook County Emergency Manager
Thursday, November 4, 2021, 09:45am
Weather
An active Pacific this morning with several things going on that are affecting our weather. There is an elongated area of low pressure just off the coast to the northwest that has other low pressure areas trying to develop in the overall flow. A secondary low is developing and will be the main catalyst for the increasing winds today. This is also bringing some moderate, occasionally heavy rain to the area but this is not a long lasting event so hydrological river issue are not likely still. In the last 3 hours (6 to 9 am) though we have recorded over ¾" of rain at the airport. Winds have already increasing as well with winds at the airport southerly 14-18 gusting to 30. There was a gust of 67 near Garibaldi earlier. As you move further north along the coast you could see even higher winds, Astoria airport is seeing gusts to 40. The winds will continue until later this afternoon when the secondary low moves off to the northeast into Vancouver Island. With the main rainband through, we will now see showers, some could be briefly heavy, and there is a slight chance of thunderstorms. There were some earlier off the coast. We do still have a High Wind Warning until 4pm today and a Coastal Flood Advisory from 10:00am until 4:00pm today. The Coastal Flood Advisory is a result of the higher seas causing increased tidal levels during a King Tide period. This may result in Tidal Overflow Flooding in the usual spots in the county during high tide periods. The next high tide is forecasted for 12:50pm today, at a level of 9.4 at Garibaldi. The anomaly is currently over a foot which if it continues, would put the level above the 10' threshold known to cause overflow flooding from around noon until 2pm today.
So, the official forecast for today, showers with possible thunderstorms, breezy southwesterly winds 15-20 gusting to 35, 20-30 gusting to 45 in the coastal communities, and 25-35 gusting to 55 at the beaches. Obviously, there could be some highs brief peak winds also, high temperatures today near 58. The showers become more widely scattered tonight, but by the early morning hours we have rain moving in again from the next approaching cold front. This will be another quick shot of rain so the flooding concerns for Friday are minimal still.
The models are still hedging on the weekend forecast but it does look like rainy periods, off and on, with cooler temperatures. The next real rainmaker comes in around Tuesday of next week.
Advisory: Coastal Flood Advisories – Friday 1 to 4 pm; Saturaday 1 to 5 pm;
* WHAT…Tidal overflow flooding expected.
* WHERE…North Oregon Coast.
* WHEN…For the first Coastal Flood Advisory, from 1 PM to 4 PM PDT Friday. For the second Coastal Flood Advisory, from 1 PM to 5 PM PDT Saturday.
* IMPACTS…Minor flooding, up to one foot above ground level, during high tides is expected in the low lying areas near bays, sloughs, and the lower reaches of the coastal rivers.
* ADDITIONAL DETAILS…The expected water level at Astoria is expected to peak near 10.5 ft around 2 PM Friday, and 11.0 ft around 3 PM Saturday. Minor flooding may affect Highway 101 near Seaside, Nehalem, and/or Tillamook. High water may also affect parts of Frazier Rd, Miami Foley Rd at milepost 1, and the intersection near Alderbrook and Possetti road. There has also been flooding in the town of Rockaway Beach.
* AFFECTED AREAS: NORTH OREGON COAST
Instructions:
A Coastal Flood Advisory means that tidal overflow flooding is expected. Coastal residents in the warned area should be alert for rising water, and take appropriate action to protect life and property.