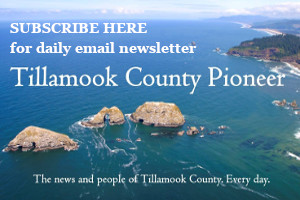 By Gordon McCraw, Tillamook County Emergency Manager
Monday, September 13, 2021, 10:45am
The next few days will see no significant changes, then, we likely see some actual measurable precipitation moving in by Friday with the strongest front that we have seen in quite some time bringing a couple of inches of rain along with breezy conditions thru the weekend.
Today and tomorrow we have a weak ridge of high pressure that warms us a few degrees and brings some patchy morning fog tomorrow, highs today near 68, lows tonight, under mostly clear skies, down near 44.
Tomorrow night we have a weak and dying front move over that increases the onshore flow and thickens the marine layer that will give us a chance of patchy drizzle tomorrow night and early morning Wednesday. High temperatures tomorrow in the low 70s, with the clouds, tomorrow night's lows near 49.
Wednesday looks cooler with partly sunny skies, the highs near 65, lows near 40, also a little on the breezy side with northwesterly winds 8-12 gusting to 20-25, then Thursday we start out mostly sunny, the high near 66, but that night some clouds start pushing in announcing the approach of a front that will bring rainy conditions early Friday morning.
So, Friday it looks like we see a decent front moving in that will bring moderate rain, possible even brief heavy rains to some areas, and gusty southwesterly winds Friday night into early Saturday morning. The beaches could see southerly winds 35-45 for a change. Once the front pushes through later Saturday we will see showers, possibly even some thunderstorms that start to become more scattered Saturday night. High temperatures Friday and Saturday in the low 60s, lows in the upper 40s.
The shower threat increases Sunday with daytime heating, even with the continued cloudy skies, highs in the low 60s, lows in the mid 40s.
Rainfall totals for this Atmospheric River event appear to be in the 2 to 3" range for Friday thru Sunday. With the prolonged dry conditions, the ground will be absorbing a lot of the rain, but the rivers will still see a slight increase in flow rates. This is a good thing as many of the rivers are currently at record low levels.