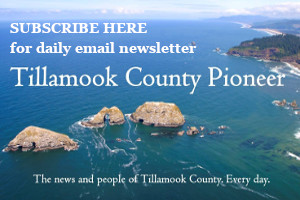 By Gordon McCraw, Tillamook County Emergency Management Director
Tuesday, August 10, 2021, 09:15am
Weather
We continue to watch the upper level ridge of high pressure building to the west that will drift over the region over the next few days, giving the area another warm one, with the hottest days likely Thursday and maybe Friday. There continues to be an Excessive Heat Watch for the Coast Range and the Cascades for temperatures running around 95-100, valid from tomorrow afternoon thru Saturday evening.  There is also an Excessive Heat Warning for the valley for temperatures ranging around 100-105, this is valid from noon tomorrow thru 10pm Saturday.  Fortunately for many of us, the marine influence will help to keep our temperatures in the mid to upper 70s, but the further away, or inland you go, the warmer it will get.
So, the marine clouds and fog will again burn back leaving mostly sunny skies today, breezy northwesterly winds in the afternoon hours, 10-15 gusting to 25, the high near 73. The marine clouds and fog return tonight, light winds, lows near 56.
Tomorrow the warmup begins with mostly sunny skies, the highs here near 76 with the winds only northwesterly 5-10, then we stay mostly clear tomorrow night, calm winds, lows only fall to near 60.
Thursday and Friday are the hot days under mostly sunny skies, highs here Thursday up near 79, then a little cooler here Friday, the high near 76. These are the days that the valley will also be the hottest, around 100-105. There is a slight chance that they could even be a few degrees higher. Our nightly low temperatures will be in the upper 50s but they valley will only be dropping to the mid 60s with some areas only falling to the upper 60s to near 70.
It looks like the marine push will increase over the weekend, especially with higher afternoon winds, which would help to cool things down with partly sunny skies, the afternoon highs here near 71, the temperatures over in the valley will be dropping into the upper 80s and low 90s.
COVID Update
As was reported today by the Community Health Center, the one-week case count for Tillamook County, from Monday August 2nd thru Sunday August 8th was an alarming 124 cases, 79 of which was this weekend (8/6 thru 8/8).  That gives us a 17.4% positivity rate.
Oregon Health Authority reports 92% of COVID-19 cases are from unvaccinated individuals statewide. In Tillamook County we estimate that 91% of the COVID-19 cases are from unvaccinated individuals.
Two new workplace outbreaks have been recorded for Tillamook County in the Oregon Health Authority (OHA) Weekly Outbreak Report. This report shows Tillamook Youth Correctional Facility and Tillamook County Creamery Association (TCCA) both with 6 cases and an outbreak onset date of 7/28/2021. The outbreak report is updated weekly sharing information about outbreaks in congregate living settings, workplaces, childcare, and K-12 schools. OHA defines outbreaks as at least two cases in separate households but discloses workplaces with five or more cases because this provides evidence that there is transmission among this group of workers, rather than sporadic community transmission.
For the month of August, new vaccines appointments are available.
Tillamook County Community Health Center 8th Street Annex,
Pfizer and Johnson and Johnson offered on Tuesdays; and,
Moderna and Johnson and Johnson clinics will be held on Thursdays.
In addition, COVID-19 vaccines will be available at two community events on August 21st :
10am – 2pm Community Resource fair at Tillamook High School hosted by YMCA
6pm – 9pm "Family Night" at the Officers Mess Hall at the Port hosted by the Juntos Program.
Note: Pfizer is authorized for those 12 and older. Moderna and Johnson and Johnson for those 18 years old and older. Call 503-842-3914 to schedule.
Not able to make it on a Tuesday, Thursday or to the events?
COVID-19 vaccines are available at routine health care visits across the county, including visits at our office and at your local pharmacy.