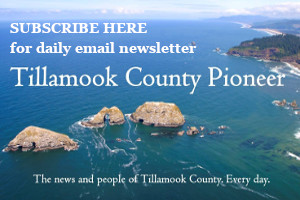 By Gordon McCraw, Tillamook County Emergency Manager
Tuesday, November 23, 2021, 09:45am
Weather
It looks like we will start out with some patchy fog tomorrow, Wednesday Nov. 24th otherwise we stay mostly cloudy with light winds thanks to high pressure building in, the high temperature near 51.  There is a slight chance of rain tomorrow night under cloudy skies, light winds, lows near 43.
For Thanksgiving Day, it looks like we start out dry, but we do have another front approaching from the northwest that will push rain back into the area Thursday afternoon or evening. This will spread rain south and east into Friday and some models are suggesting this could even develop into an atmospheric river event with the hose aimed right now more to the north.  We will still need to keep a close eye on this though.  Right now it does not look to be wet enough to cause hydrological concerns, but this could change so bears watching.
As for the weekend, the models are spread out even further apart.  That being said, it looks like the warm front will lift north Friday into Saturday though some models hold the atmospheric river over northern Oregon and southern Washington thru Saturday with more rain possible Sunday. The bottom line, Friday on thru the weekend looks wet, we just don't have a high confidence in saying how wet.
The long range models show more rain and possibly some high winds for next week. Something else to watch.
Community Call COVID Update
Weekend Positive Count (11/19-11/21) – 4
7-Day County (11/14-11/20) – 25
14-Day County – 11/7-11/20) – 68
Nov to date count (11/1-11/21) – 128
Count to date – 2,131
Deaths to date – 43 (35 unvaccinated, 1 no record, 7 fully vaccinated)
Positive Cases statewide (11/7-11/13) – 74.5% unvaccinated, 25.5% breakthrough cases
Hospitalizations to date – 94
Positivity Rate – 5.9% (11/14-11/20), previous week the rate was 8.2%
Confirmed Outbreaks – 1, Pending Investigation – 12, Total Monitored 13
November- Vaccine Appointments:
(1) Tillamook County Community Health Center Fairgrounds.
a. The walk-in clinic has moved back to the Convention Center in the Fairgrounds for the remainder of November. The walk-in clinic will be closed on Wednesday Nov 24 and Thursday Nov 25th this week. The clinic is open today, Tuesday Nov 23rd 8:30am – 3pm and will be open the following week Tuesday/Thursday 8:30am – 3pm and Wednesday from 1pm – 5pm by walk-in only.
(2) Adventist Health:
1) Tillamook @ Occupational Medicine office
2) Pacific City on Wednesdays
Others:
A. Rinehart Clinic in North County
B. Local Pharmacies – Safeway, Fred Meyer, and Tillamook Pharmacy
C. Statewide Pharmacies – check websites to schedule appointments.