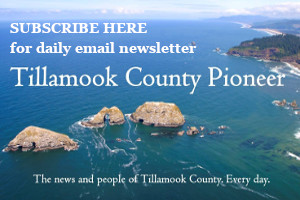 By Gordon McCraw, Tillamook County Emergency Manager
Thursday, August 26, 2021,10 am
Weather
Well, we had a few hundredths of an inch of rain yesterday associated with a weak front that went through and today we have another weak front that will give us another chance of some light rain or showers starting early this afternoon as the front moves through. The rain won't last long and again will likely only see a trace to a few hundredths of an inch of rain, maybe a little more in the Coast Range.  The precipitation will start to diminish later this afternoon with only a slight chance remaining thru this evening.  Highs today near 65, tonight's lows near 52.
High pressure moves in tomorrow as the fronts push off to the east so, though we will start out cloudy, things will improve tomorrow afternoon.  Winds increase in the afternoon to westerly 8-12, the high near 67, with mostly clear skies tomorrow night and light winds, lows near 48.
With a ridge moving over this weekend, we can expect mostly sunny skies, highs Saturday near 70, but as the ridge moves east, Sunday's high only near 67, partly cloudy nights, lows near 50.
As for next week, with a trough setting up to our west it looks like we see mostly sunny and cooler days with highs in the mid 60s, nighttime lows around 48.  The only question is will the marine clouds stay offshore and we see partly cloudy nightime skies. That's the forecast anyway!
COVID-19 testing is available
COVID-19 testing and care is available for individuals experiencing symptoms or who have had close contact with a confirmed COVID-19 case at our acute care clinic located at 2111 8th St. Tillamook.
Hours:
Monday, Wednesday, and Friday 8 am – 5:00 pm.
Tuesday and Thursday 1pm – 5pm
Appointments are required, please call: 503-842-3900
Vaccine Scheduling Tillamook County Community Health Center:
2111 8th St, Tillamook, OR (next to our main medical clinic)
Tuesdays  8:30am – 11:30am Pfizer COVID-19 vaccine (12 and older).
Thursdays 8:30am – 11:30am Moderna COVID-19 vaccine (18 and older).
Johnson & Johnson is available on Tuesday or Thursday upon request (18 and older).
Scheduling Assistance by Phone and Email only:
Call: 503-842-3914  Monday – Friday 8am -5pm  (English and Spanish).
Email: tcchc@co.tillamook.or.us with your contact information including phone number for a scheduling assistant to call you (English and Spanish).
3rd Dose Vaccine scheduling for all 12 years old and older now available
3rd dose of Pfizer and Moderna is available for those who have moderately to severely compromised immune systems. Learn more here.  The CDC does not recommend additional doses or booster shots for any other population at this time.