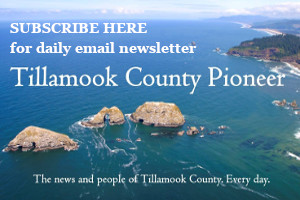 By Gordon McCraw, Tillamook County Emergency Manager
Tuesday, September 14, 2021, 07:45 am
Weather
With a weak ridge of high pressure over us today we warm up a little, but we also have an approaching weak cold front that will give us some increased cloudiness then a thickening marine layer tonight. The combination of the thickened clouds and weak front may cause some patchy drizzle later tonight into early tomorrow morning as the front itself pushed across. Highs today near 70, lows tonight near 50.
Tomorrow is our, "in-between" day though we don't totally clear out, and we stay on the breezy side with winds becoming northerly 8-12 mph gusting to 20-25 mph. Highs near 63, lows near 40 with some areas in the usual cooler location a few degrees below that even. Things are starting to feel a little fall-like.
Thursday is our transition day, starting out mostly sunny, the afternoon high up to 63 but then the clouds roll in that night then the rain chance starts after around midnight with rain likely by Friday, increasing to moderate, occasionally heavy in a few locations, and breezy, lows near 48.
The front pushes through Friday night giving us some moderate, occasionally heavy rain, then we see the cloudy conditions continue with frequent showers likely Saturday and again Sunday with highs near 60, the lows by Sunday down to near 41. The shower activity eases Monday, becoming more scattered under partly sunny skies highs near 62, lows near 43.
Other than some localized urban and street flooding during the heavier rains and the clogged drains, river flooding is not currently a concern. The soils are quite dry, and the rivers are at historically low levels which will help with river conditions.
COVID UPDATE:
There were 32 new COVID-19 related deaths in Oregon, raising the state's death toll to 3,446 the Oregon Health Authority reported yesterday. The 32 new deaths and 4,700 new Oregon cases reported yesterday included data reported by counties for the 3-day period between Friday, Sept. 10 and Sunday, Sept. 12. Location or other additional data have not been released by this update time. As of last Friday, the Tillamook County deaths increased by 1 putting us at 19 and today the Tillamook County Health Department is reporting an additional 2 deaths. making our total 21 deaths in Tillamook County. A reminder that for the first 18 months of this, thru July of this year, we only experienced 5 deaths. In the last month and a half, we have increased that by an additional 16 and at last report, these were nearly all unvaccinated individuals, we could not find several in the system meaning they were either not vaccinated or received their vaccine in another state.
The number of hospitalized patients yesterday with COVID-19 across Oregon was 1,075, which is 11 fewer than the previous report. There were 274 COVID-19 patients in intensive care unit (ICU) beds, which is nine fewer than the previous report.
There were 62 available adult ICU beds out of 652 total (10% availability) and 316 available adult non-ICU beds out of 4,264 (7% availability).
Tillamook County reported an additional 51 new confirmed and presumptive COVID-19 cases over the weekend period.