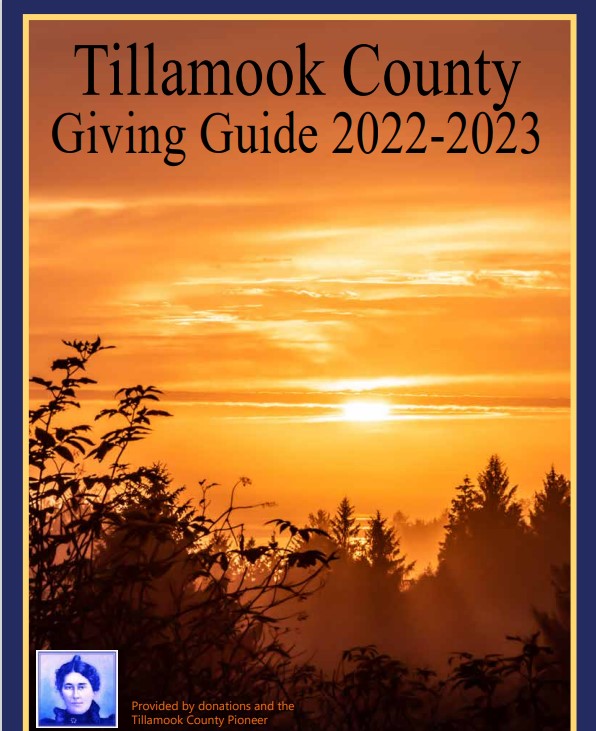 By Gordon McCraw, Tillamook County Emergency Manager
Tuesday, August 31, 2021, 11:00am
Weather
A trough of low pressure is sliding eastward and this thickened the marine layer overnight and gave us some patchy drizzle and mist this morning. The clouds will thin and we could see some sun in the afternoon.  The winds becoming westerly 8-12 gusting to 18, the afternoon high near 66.  The trough continues eastward tonight as high pressure moves in giving us mostly clear skies tonight, northwesterly winds 5-10, lows dropping to near 44.
The high pressure ridge will give us mostly sunny skies tomorrow with northerly winds 4-8, highs near 67, then mostly clear skies tomorrow night, light winds, lows down near 43.  Thursday the high moves over the area giving us some patchy morning fog otherwise a mostly sunny day with winds becoming northerly 5-10 gusting to 18, the high temperature up near 70, a mostly clear night, lows near 46.
Friday looks mostly sunny and 69 but then another trough approaches and gives increasing clouds, then as the trough moves through Saturday night, we have a slight chance light showers through the day Sunday, highs near 69 Saturday, but down to 65 Sunday, lows near 56 Saturday but 52 on Sunday.
The models are suggesting a ridge will build in over our area on Labor Day bringing a return of mostly sunny skies, the nigh up near 69.
COVID News
Yesterday's OHA COVID update reported 5,545 new cases in the State with Tillamook County having 81.  The State saw 40 deaths, Tillamook County remains at 13.  For hospitalizations, the State has 1,120 which is 23 fewer than yesterday and 316 people in ICU beds, 14 fewer than yesterday.  This means there are still only between 6 and 7% non-ICU and ICU bed available in the state.  Tillamook County Adventist Hospital reported this morning that they had 16 people hospitalized today, 8 of those were COVID patients.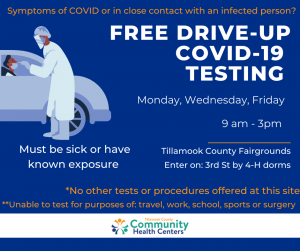 Tillamook Community Health Care News – Drive Through Testing
Do you have symptoms consistent with COVID-19 (such as fever, dry cough, fatigue, muscle aches, sore throat, or congestion) or have you been in close contact (within 6ft for more than 15 minutes) with someone who has tested positive?
Tillamook County Public Health is offering drive-up COVID-19 testing at the Tillamook County Fairgrounds Monday, Wednesday and Friday starting tomorrow – September 1st – 9am – 3pm.
Enter through the gate on 3rd Street by the 4-H dorm building and follow the path to our testing tents. No appointments are required. Testing will be performed while you are in the car. A healthcare provider will be onsite, additional visit available as needed.
Due to high demand, testing is being prioritized and is not available for surgery, travel, work, school, or sports.
COVID-19 testing is available at no charge.
Consider also talking to your healthcare provider if you develop symptoms and call 911 if you have severe symptoms.