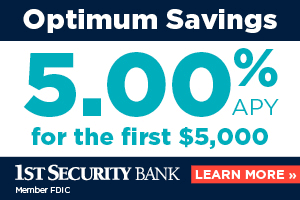 Thursday, September 2, 2021, 09:00am
By Gordon McCraw, Tillamook County Emergency Management
Weather
We have a ridge of high pressure influencing our weather today and tomorrow. We can expect mostly sunny skies once the fog lifts and clears.  Afternoon winds becoming northwesterly 5-10 gusting to 20, today's high near 70. We should see mostly clear skies tonight, light winds, lows near 49.
With the ridge still, tomorrow and Saturday look mostly sunny also, the highs near 70, the winds not as gusty, and with partly cloudy nights, lows hang in the low to mid 50s.  Saturday night there is a front that could brush the far northern coast that would bring a slight chance of light rain into Sunday morning, otherwise areas south of that would only see some increased cloudiness.
Labor Day is looking pretty nice, a mostly sunny day with highs near 71 and a partly cloudy night, lows near 55.  Look for a few more clouds Tuesday as a disturbance slowly lifts northeastward from west of northern California that will then give us a slight chance of showers Wednesday along with slightly cooler temperatures, the high near 67.
COVID Vaccine Clinic
Today, Thursday, September 2, 10:00am – 6:00pm
Tillamook County Creamery Association (TCCA) is inviting all community members age 18+ to a free drive-through COVID vaccine clinic. The single-dose Johnson & Johnson vaccine will be administered, and no sign-up or appointment is required. (If you have a health insurance card, please bring it. But it is not required to receive a free vaccine.)
These will be available at the Tillamook Creamery Red Barn, 4165 Highway 101 N and available to TCCA employees, members, and anyone in the community (18+) may attend to receive a vaccine.  Enter from Latimer Rd. not Highway 101 then follow the marked signs and arrows.
Next Week
Tillamook County Public Health is offering drive-up COVID-19 testing at the Tillamook County Fairgrounds Monday, Wednesday and Friday starting September 1st 9am – 3pm.
Enter through the gate on 3rd Street by the 4-H dorm building and follow the path to our testing tents. No appointments are required. Testing will be performed while you are in the car. A healthcare provider will be onsite, additional visit available as needed.
Due to high demand, testing is being prioritized and is not available for surgery, travel, work, school, or sports.
COVID-19 testing is available at no charge.
Consider also talking to your healthcare provider if you develop symptoms and call 911 if you have severe symptoms.
Plans are also underway to offer Moderna, Pfizer and J&J "walk-in" vaccinations on Tuesday's and Thursday from 9am-3pm at the Fairgrounds also.